Air-Cooled TIG Torches have max rated output of 300 A.
Press Release Summary: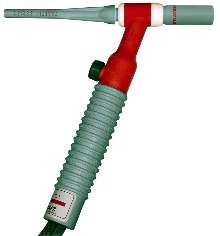 Crafter Series(TM) models CS300 and CS300V combine heat dam and speed channel technology to offer 60% duty cycle at 300 A. Portable units have gas valve on handle of torch that allows user to manually control gas flow without gas solenoid in power supply. Torches come weld-ready with all front-end parts needed for TIG applications and are available with 12.5 and 25 ft cable lengths.
---
Original Press Release:
Weldcraft Introduces First 300 Amp Air-Cooled TIG Torches
· Reduce downtime · Eliminate complexity of water-cooled systems · Increase portability BURBANK, Calif., January 10, 2004-To reduce downtime, increase portability and improve productivity, Weldcraft has introduced the CS300 and CS300V high performance TIG torches-the first air-cooled torches to meet the demands of applications up to 300 amps (DC). Part of the Crafter Series(TM), the CS300 and CS300V combine heat dam and speed channel technology with a high performance cable assembly to offer a 60 percent duty cycle at the rated maximum output of 300 amps. The CS300 and CS300V also increase portability without sacrificing quality or performance in field applications. Portability and Reduced Downtime Designed for the maintenance and repair, construction and mechanical contractor industries, the CS300 and CS300V provide improved portability for a variety of applications. Specifically, both torches eliminate the need for complex water-cooled systems, thereby reducing the amount of equipment necessary for field applications. The CS300V further improves portability through a gas valve on the handle of the torch that allows gas flow to be started and manually controlled without a gas solenoid in the power supply. Mike Sammons, business development manager for Weldcraft, notes, "Weldcraft created the CS300 and CS300V for the welding operator who is on the go. Operators can lighten their equipment load in the field, but still maintain a high quality of welding performance for their precision TIG applications." Sammons adds, "The CS300 and CS300V also reduce downtime due to the over duty cycling associated with lower amperage air-cooled torches. The torches let you carry the higher amperages needed for field type repairs without causing overheating or damage." Operator comfort is likewise increased; the CS300 and CS300V can be used for longer periods of time without overheating. To increase its versatility, the CS300 and CS300V use existing WP-26 series torch replacement parts. The torches come weld-ready with all front-end parts needed for TIG applications and are available in 12.5- and 25-ft. cable lengths. For more information, contact Weldcraft at 800-752-7620 or 818-846-8181; fax: 818-845-1542; visit weldcraft.com; e-mail customerservice@weldcraft.com or write to Weldcraft Customer Service, 119 E. Graham Place, Burbank, CA 91502. Weldcraft is the world's leading manufacturer of GTAW (TIG) welding torches and accessories. A broad line of premium products includes the unique Crafter Series, MicroTig,(TM) Quick Connect System,(TM) WP Series, Single Piece Collet/Collet Body and HPN Nozzles. Weldcraft is a wholly owned subsidiary of Illinois Tool Works Inc. (ITW), Glenview, Ill. ITW is a diversified multinational manufacturer of highly engineered components, assemblies and systems.