Air Conditioning Pump provides solution to air-lock problems.
Press Release Summary: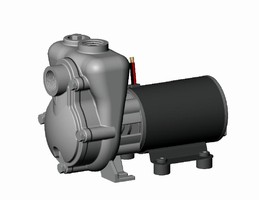 Designed for marine air conditioning installations when pump mounting location is prone to air-lock or requires suction lift, Primetime Pump lifts water up to 12 ft and moves up to 21 gpm. Self-priming centrifugal pump has rugged cast 316 stainless steel housing with carbon/ceramic Viton bellows mechanical seal which makes it suitable for marine, industrial, agricultural or commercial applications where compatible liquids are fed, transferred, recirculated, or filtered.
---
Original Press Release:
Finally, A Solution to Air-Conditioning Pump Air-Lock
Boat Builders and Owners Seek a Solution to Air-Lock Problems with Air-Conditioning Pumps Boat owners have high expectations for their boats, as well they should. Sometimes these high expectations can present engineering challenges for boat builders and designers. For example, while backing down on a fish, prop wash may cause air bubbles to be sucked into the thru-hull that provides water to the air-conditioning pump. The air will cause the pump to lock up, shutting down the air-conditioning unit. Air-lock can also occur when a boat heels in the wind or bow thrusters cause bubbles. Shallow draft boats are also prone to having air sucked into the thru-hull. Introduced at the Ft Lauderdale International Boat Show, the Primetime Pump was originally designed for marine air conditioning installations when the pump mounting location is prone to air-lock or requires a suction lift. The pump has been tested in the field by boat builders and technicians. It is being seen as a solution pump. The Primetime Pump is a quiet, compact self-priming centrifugal that will lift water up to 12 feet and move up to 21 gallons per minute. It has a rugged cast 316 stainless steel housing with carbon/ceramic Viton bellows mechanical seal making it ideal for marine, industrial, agricultural or commercial applications where compatible liquids are being fed, transferred, recirculated, or filtered. Complete data information can be found at www.primetimepump.com. If you would like more information about this product, or to schedule an interview, please contact Maria Brandes Marketing Director 800-446-1656 mariab@depcopump.com. Company Name: Depco Pump Company Address 1: 2145 Calumet St City: Clearwater State: FL Zip: 33765 Country: USA Phone: 727-446-1656 URL: www.depcopump.com
More from Mechanical Components and Assemblies