Air Compressors have ASME-certified, 20-gal receivers.
Press Release Summary: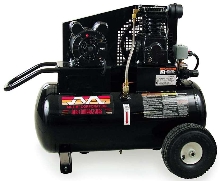 Along with pneumatic tires and stainless steel braided discharge hose, portable units feature cast-iron, single-stage compressor with aluminum head and splash-lubricated, cast-iron crankcase. Gasoline compressors feature 5.5-7.0 hp industrial Honda, Vanguard, or Subaru engines; pneumatic idle control; and quality pilot valve unloader. Electric compressors offer 1.5-3.0 hp, 120-230 V electric motors, auto start/stop, and industrial grade pressure switch.
---
Original Press Release:

Portable, Single Stage 20 Gallon Air Compressors


Mi-T-M® Corporation manufactures a line of portable, gasoline or electric, single stage, 20 gallon air compressors. Mi-T-M®'s portable air compressors are designed to meet the needs of the industrial and contractor professional who insists on quality equipment and years of dependable service.

The features of the compressors include; quality manufactured cast iron single stage compressor, with aluminum head and splash lubricated cast iron crankcase, 10" fly wheel for extra cooling and longer life, large canister intake filter, 14 gauge powder coated two-piece belt guard, pneumatic tires with tubes and steel hubs, powder coated ASME certified 20 gallon receivers, stainless steel braided discharge hose, regulator and two gauges for tank and outlet pressure, manual drain valves for proper maintenance, 7 gauge base plate to reduce vibration, convenient lifting handles and belt tightening system that pulls the engine straight to ensure constant belt alignment. The gasoline compressors also feature 5.5 H.P.-7.0 H.P. Industrial Honda, Vanguard or Subaru engines, pneumatic idle control for added safety and quality pilot valve unloader.

While the electric compressors also feature 1.5-3.0 H.P. 120V-230V electric motors, auto start/stop (continuous run optional) and industrial grade pressure switch. The 1.5 and 2.0 HP units are available with a dual voltage motor option.

Mi-T-M air compressors offer more quality components and safety features than other manufacturers. Mi-T-M is committed to quality and safety with every product. For more information call (800) 553-9053 or check out our website at www.mitm.com. Use photo: AC1-PE15-20M

Teresa Gottschalk
Graphic Design Technician
Mi-T-M Corporation
8650 Enterprise Drive
Peosta, IA 52068
(563) 556-7484, ext 231
FAX (563) 556-1235