Air Cleaner protects operators during soldering operations.
Press Release Summary: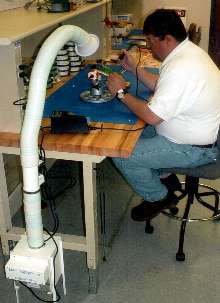 Snorkel Sentry Air Cleaner draws and filters irritating or dangerous fumes away from operator workstations. Unit has 3 in. round, 33 in. long, self-supporting arm with 5 in. diameter suction hood. Freestanding fan/filter unit achieves air volume of 70 cfm, and cleaner achieves efficiencies up to 99.97% @ 0.3 microns with HEPA filters. Air cleaner suits electronics manufacturing applications such as soldering, solvent vapor control, laser cutting, and other operations.
---
Original Press Release:

Snorkel Sentry(TM) Air Cleaner Effectively Protects Operators During Soldering Operations


Houston, Texas - November 7, 2003 - Sentry Air Systems, Inc., a specialist in air cleaning equipment, offers a variety of solutions for clean air in electronics manufacturing facilities where soldering is an integral part of the operation. Without protection, operators who solder for a living are at risk from fumes that can cause occupational asthma, or aggravate existing asthmatic conditions. The Sentry Air Systems Snorkel Sentry Air Cleaner incorporates patented technology to facilitate a clean, safe working environment by drawing and filtering irritating or dangerous fumes away from operator work stations.

The Snorkel Sentry air cleaner is appropriate for electronics manufacturing applications such as soldering, solvent vapor control, laser cutting, and other operations. This economical unit safeguards soldering workstations for maximum productivity, and reduces operator exposure to rosin-core solder fumes. The Snorkel Sentry unit has a highly flexible, self-supporting arm, 3 inches round and 33 inches long, and a 5" diameter suction hood. The unit, which contains a bracket for easy table mounting, provides source capture of airborne contaminants, fumes and vapors. The freestanding fan/filter unit on the floor frees up much needed workspace, and achieves air volume of 70 CFM.

A variety of replaceable filters are available, and the unit achieves efficiencies up to 99.97% @ .3 microns with HEPA filters, and optional activated carbon filtration can be used to contain most vapors. Constructed of 16-ga. Carbon steel, this modular unit has a proven record of almost maintenance-free reliability. The sound level is approximately 55 dba @ 2' from inlet. Offering quiet operation, the Snorkel Sentry air cleaner provides an effective and economical solution to maintaining operator safety in soldering operations, and comes with a limited 1 year warranty from date of shipment.

Sentry Air Systems, Inc., located in Houston, Texas is a 21 year old manufacturer of high-quality floor, benchtop, and mounted air cleaning equipment that meet applications in the Electronics, Medical, Laboratory, Manufacturing, Industrial and Pharmaceutical industries. For more information, please call 800-799-4609 or visit www.sentryair.com

More from Construction Equipment and Supplies