Air Cleaner keeps workstations clean.
Press Release Summary: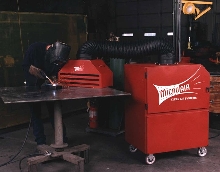 Portable TM 1000 TaskMaster has 1,000 cfm motor-blower, 25 1/2 x 32 1/2 in. footprint, and backdraft hood that can be placed on work table or floor for exhausting harmful pollutants. System is suitable for welding, cutting, grinding, painting, and other applications where capture of airborne pollutants at work station is necessary. Other attachments include downdraft table, dual articulated arms, single articulated arms, and long reach flexible hose.
---
Original Press Release:
Micro Air(R) TaskMaster Air Cleaner Features Backdraft Hood Attachment

The new TM 1000 TaskMaster Air Cleaner from Micro Air(R) Clean Air Systems now features a convenient backdraft hood attachment. The new attachment can be easily placed on a work table or floor, allowing convenient exhausting of harmful pollutants. The new attachment is ideal for welding, cutting, grinding, painting and other applications where capture of airborne pollutants at a work station is necessary.

Other attachments are available for the TaskMaster including a downdraft table, dual articulated arms, single articulated arms and a long reach flexible hose. A simple "Lift-Off' attachment connection allows the operator to easily switch the backdraft hood attachment with other TaskMaster Air Cleaner attachments, no tools are necessary.

The new TM 1000 TaskMaster offers shop and plant air cleaning versatility unlike any other portable on the market, eliminating the need to buy a different air cleaner for each application or work area. It utilizes 120V or optional 208/230V-460V for maximum efficiency and portability, a powerful 1,000 cfm motor-blower assembly, a small 25 1/2" x 32 1/2" footprint, dual cartridges cleaned with the exclusive Roto-Pulse(TM) high efficiency cartridge cleaning system, and a wide range of filter options.

Micro Air, P.O. Box 1138, Wichita, KS 67201, (316) 943-2351, FAX (316) 943-2717, www.microaironline.com, e-mail: [email protected]

Marketing Resources
Planning/Management/Communications
3241 E. Douglas Wichita, KS 67218
(316) 683-5303