Air Circulator allows fresh air streams in specific areas.
Press Release Summary: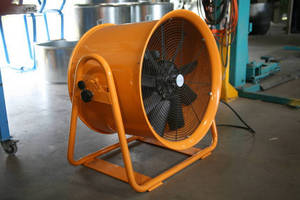 Heavy-duty, fixed-head air circulator cooling fan creates air flow in specific areas of factory, plant, office, or laboratory where it would otherwise be difficult to direct fresh air. Operating on voltages of 1-phase 240 V or 3-phase 415 V, unit features motor power ranges from 0.20-0.30 kW and allows free air volumes to be moved at speeds from 3,000-17,000 Lps. Lightweight fan has 2 speeds and includes 3-blade impellers, and can be wall-mounted or operated from steel pedestal.
---
Original Press Release:

Circulators Allow Fresh Air Streams in Specific Areas



Fanquip has released a lightweight yet powerful fixed head air circulator cooling fan to create air flow in specific areas of a factory, plant, office or laboratory which would otherwise find it impossible to direct fresh air to pockets of their operation.

For instance, if a large commercial food packaging plant placed its stock in multi-level palletised storage before freighting, these air circulator units - the mounted ones specifically - can be affixed in strategic locations to create a desired air flow well above ground level.

If a multi-faceted assembly plant manufactures a product that is transient across the assembly lines, personnel moving with this assembly routine can be kept cool merely by relocating the pedestal mounted version of the air circulator to the required location.

Essentially, this product can benefit product quality as well as employee well being.

As an indication of how effective air movement is in retaining comfortable body temperature of shop floor employees, air moving at a velocity of 2.5m/sec can give people working in that airstream an approximate cooling effect of 5°C.

Apart from being very inexpensive to purchase and install, the type of structure and generally light weight of the apparatus gives it great installation flexibility.

For instance, they can either be wall mounted or operate from a steel pedestal when portability is an important requirement.

The heavy duty air circulators operate on two speeds and have three-blade impellers to ensure large volumes of air can be moved when and where required.

Common fan sizes available are 460mm, 630mm, and 810mm, with each of these dimensions relating to both wall mounted versions and pedestals.

Motor power ranges from 0.20kW to 0.30kW. Free air volumes moved at high speed range from 3000 litres per second through to 17,000 litres per second.

Operating voltages available are a choice from 1 Phase 240V or 3 Phase 415V in all of the fan diameters.

An important aspect of Fanquip's turnkey approach is its ability to institute appropriate safety and access equipment to allow easy ongoing inspection and maintenance - particularly for roof mounted solutions.

For more information, please contact, Fanquip. 1800 224 308.

More from Electrical Equipment & Systems