Air Carbon-Arc Gouging System delivers accuracy and safety.
Press Release Summary: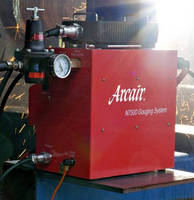 With accuracy of 0.025 in., Arcair-Matic® N7500 can gouge with carbons up to ¾ in. in diameter at 1,600 A at 100% duty cycle. Automatic system comes with digital pendant that promotes consistency via pre-set parameter menu based on carbon size and gouge depth. Front end provides operators with optimal view of seam, design facilitates slag removal, and bottom of gouge exhibits minimal carbon deposits. Also, rough machining mode compensates for out-of-round rolls or pitted areas.
---
Original Press Release:

New Automatic Air Carbon-Arc Gouging System Increases Speed by Up to 5 times, Offers 10 Times Faster Clean Up Compared to Manual Gouging



Arcair-Matic® N7500 features a digital pendant and other enhancements for greater control, accuracy and safety.

ST. LOUIS -- Arcair®, an industry leader in air carbon-arc products, has introduced the Arcair-Matic® N7500, an automatic gouging system that offers five times greater productivity and 10 times faster clean-up compared to manual carbon arc gouging. It can gouge with carbons up to 3/4" in diameter at 1600 amps at 100% duty cycle and gouge with an accuracy of 0.025". Slag removes easily and the bottom of the gouge exhibits minimal carbon deposits.

Compared to the previous Arcair-Matic system, the new N7500 offers:
· A digital pendant that improves consistency through a pre-set parameter menu (view video) based on carbon size and gouge depth.
· An extended front end that provides operators with a better view of the seam, making it easier for them to keep the torch on track.
· A rough machining mode that compensates for out-of-round rolls or pitted areas by enabling the operator to stall the electrode feed.
· Safer operation; it uses the power source's remote contactor switch and keeps the system electrically cold until the start button is pressed. Also enhancing safety are "no current" detect and low voltage functions that shut down the system when these conditions are present.

Use the N7500 to gouge seams for full penetration welds, repair worn steel rolls, remove damaged cladding material from inside paper mill digesters or otherwise make long, repetitive gouges on plate or pipe. The N7500 finds applications in the pipe, pressure vessel, wind tower, ship, rail, bridge, girder, steel, mining and aggregates industries. It can be used on almost all metals, including stainless steel, carbon, manganese and chrome-moly steels.

Increased Productivity
The N7500 gouging system produces excellent U-groove edge preparation with less edge distortion than flame cutting. It can bevel a 1" (25.4mm) J-groove about 50% faster than an automatic flame torch, and since a J-groove requires less fill metal than a conventional V bevel, welding is completed about 150% faster. A unique "travel delay" function assures excellent groove geometry at the very beginning of the groove. This function avoids a sloped groove at the beginning of the gouge and can eliminate the need for a starting pad.

The remote pendant puts complete control of the gouging operation where it needs to be: in the operator's hands. The operator has full control to manage the gouging parameters. The set-up selection guide is viewed on a LED display instead of analog gauges. The pendant can track arc-on time to help schedule routine maintenance, as well as monitor and manage cost of the gouging project.

With unsurpassed versatility, the system's synergic mode ensures conformity to pre-determined, pre-selected groove depth and width specifications. A single electrode contact shoe assembly accepts the entire range of Arcair gouging electrodes, from 5/16" (7.9 mm) through 3/4" (19.1 mm).

The Arcair N7500 can be used with CC and CV power supplies. It utilizes the contactor in the welding power supply unit, thereby eliminating the need for the external contactor unit. One unit can service both the domestic (110 VAC) and the foreign market (220 VAC).

About Arcair
Arcair is a leader in air carbon-arc gouging, exothermic cutting and underwater cutting and welding products, providing a complete line for a wide-range of industry uses. Products include manual and automated gouging equipment, torches, accessories and carbon electrodes.

About Victor Technologies
Headquartered in St. Louis, Missouri, Victor Technologies provides superior solutions for cutting, welding and gas control equipment under brand names that include Victor®, Tweco®, Arcair®, Thermal Dynamics®, Thermal Arc®, Stoody®, TurboTorch®, Firepower® and Cigweld®. For more information about Victor Technologies, its products and services, visit the company's web site at www.victortechnologies.com.

Contact:
Bill Wehrman, Communications Manager
Victor Technologies
Phone: 636-728-3057
Email: media@victortechnologies.com

Alternate Contact:
Chuck Schroeder (PR Representative)
Office: 262-240-9790; Mobile: 414-467-3287
Email: chucks@imipr.com

More from Thermal & Heating Equipment