Air Booster doubles pressure for pneumatic applications.
Press Release Summary: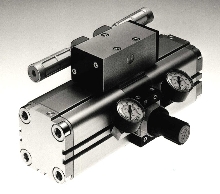 DPA air-to-air booster employs dual piston technology and has no oil or liquid to contaminate operating area. It accepts shop air and generates increase at output. Unit comes in 63 and 100 mm bore sizes and can be operated without air lubrication system, however filtered air supply (5 microns) is required. Input pressure is 2 to 8 bar and 2 to 10 bar, respectively. Size 63 mm will produce up to 16 bar output for 10 bar input at 625 Nl/min.
---
Original Press Release:
Twin Piston Air Booster Doubles Pressure for Pneumatic Applications
In contemporary pneumatic applications, one of the most important factors at the foundation of a tightly controlled and responsive system is the availability compressed air to meet the needs of the actuators it drives. While it is not practical to provide individual supply lines to each location where a periodic demand for higher than normal pressures exists, since that could require dedicated compressed air sources, Festo's air-to-air DPA Boosters offer not only economy and safety in potentially hazardous environments, but also cleanliness, since they have no oil or liquid to contaminate their operating area. Like most other boosters, the DPA units accept shop air and generate an increase at the output. In some cases the pressure generated can be nearly double the input value (depending on the flow rate setting), but this alone is not the only difference... DPA units also employ dual piston technology (two chambers) which facilitates fast and efficient pressurization. Combining this with the integrated pneumatic control circuitry found in the DPA, many unique high pressure processes can be serviced without a significant increase in cost. These air-to-air boosters are ideal for use with actuators that perform clamping, pressing, crimping, bending and shearing tasks. Functionally, standard ISO valves can be used to control the air supply to the two pistons built into the housing. The booster automatically reverses direction when the pistons are driven to their end position. The output pressure can be set manually, anywhere between the input pressure and a multiple up to 2X. DPA boosters operate automatically as long as the preset output pressure has not been reached. Once the desired pressure has been achieved, the booster stops operating until a difference between the setting for output pressure and the actual output value is sensed. The DPA Series is available in 63 and 100 mm bore sizes and can be operated without an air lubrication system, however a filtered air supply (5-microns) is required. Input pressure for the units is 2 to 8 bar, and 2 to 10 bar respectively, and at the output, for example the size 63 mm will produce up to 16 bar output for a 10 bar input at 625 Nl/min. In comparison, with a 10 bar input, the 100 mm DPA booster unit will produce that same output pressure (16 bar) at the significantly higher flow rate 1,525 Nl/min. On the lower end of the allowable input range (on the order of 4 bar) the 63mm unit optimizes it output pressure at 7.5 bar, while achieving a flow rate slightly above 100 Nl/min. The 100-mm unit with 4-bar input optimizes output pressure at 7.5 bar with flow rate of 260 Nl/min. Aside from improving general efficiency of actuators serviced, the modular and space-efficient DPA also take full advantage of the latest in modern materials and manufacturing technology. Precisely machined aluminum end caps are contoured to achieve optimum profile when attached to the unit's highly engineered, corrosion-resistant aluminum barrel extrusion. About The Company As a global manufacturer of pneumatic components and systems with global influence, and over $1.2 billion dollars in sales, Festo enjoys the resources and application experience necessary to work with our customers as a technical partner, providing cost-effective solutions for industrial automation. Festo Corporation is a wholly-owned subsidiary, of Festo AG & Co., a global industrial automation company specializing in providing complete solutions. Internationally, Festo has 52 independent companies with over 250 branch offices, servicing 176 companies. As an ISO 9001 certified company Festo's Corporate Mission is to enhance the business success of our customers by providing innovative products and services. Our products include pneumatic and electronic components and complete systems, custom assembly, engineering and design services, and education and training resources. For more information on our products and services please visit the What's New section of our website or contact a local Festo Sales Office by calling 1-800-99-Festo. For Further Information Contact: Festo Corporation 395 Moreland Road PO Box 18023 Hauppauge, NY 11788 Tel: 631-435-0800 Fax: 631-435-8026 www.festo-usa.com
More from Machinery & Machining Tools