Air Baffle Board keeps VPX systems cool.
Press Release Summary: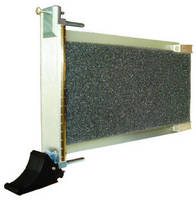 Featuring 3U height, VPX air blocker board fills unused slots and redirects or contains airflow. As VPX systems can require elevated levels of heat dissipation, air baffle helps keep air contained to aid cooling effectiveness while subsequently reducing static pressure buildup in system. To ensure system appearance continuity, custom panel and handle options are available.
---
Original Press Release:

3U VPX Air Baffle Board from Elma Bustronic



FREMONT, California - Elma Bustronic Corporation, an industry leading designer and manufacturer of high performance backplanes has announced a new VPX air blocker board in the 3U height.

The VPX air baffle board is designed to fill in unused slots and redirect (or contain) airflow. VPX systems can require high levels of heat dissipation. The air baffle helps keep the air contained to aid cooling effectiveness and subsequently can reduce static pressure build-up in a system. Custom panel and handle options are available to ensure continuity of the systems' appearance.

Bustronic also offers VPX accessories such as load boards, extender boards, RTMs, and SerDes test devices. The lead-time is 2-3 weeks ARO.

About ELMA BUSTRONIC:
Founded in 1989, Elma Bustronic specializes in the design and manufacture of high-performance backplanes. Elma Bustronic has a complete line of industry-standard backplanes, including CompactPCI, VME, VME64x, H.110 CT, VXI, VXS, and ATCA. Elma Bustronic's custom design service combines creative engineering, highly sophisticated computer simulation and modern design techniques to offer customized backplanes that meet the most specialized system requirements. A member of the ELMA Electronic group, Elma Bustronic is located in Fremont, California. Elma Bustronic is a member of PICMG(TM), VITA, and the StarFabric Trade Association and can be found on the World Wide Web at www.Bustronic.com.

Related