AIM Computer Solutions Launches Physical Inventory Solution at Hidaka USA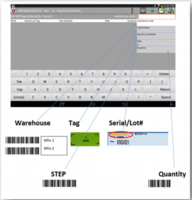 Mobile technology solution replaces manual inventory processes
Fraser, Mich. (PRWeb) May 16, 2019 -- AIM Computer Solutions, a provider of enterprise ERP technology solutions and business process improvement consulting to discrete and repetitive manufacturers, announced today the results of the implementation of its AIM Mobility Physical Inventory app at Hidaka USA.
Hidaka was facing a challenge familiar to manufacturers: its physical inventory process – while critical to operating efficiently – was time-consuming, contributed to unproductive downtime and was prone to errors as it relied on the accuracy of manual data entry.
After conducting due diligence of available inventory management solutions, Hidaka chose the AIM Mobility Physical Inventory app which integrates with its AIM Vision ERP solution. The benefits were apparent after the implementation of the app. 
Labor to conduct inventory dropped in half from 320 to 160 hours
Scanned serialized barcodes on products prevented typing errors and gave real-time feedback on retired or discontinued products
Mobile tablets feature an intuitive interface which reduces the need for user training
"We now have an accurate inventory process that informs our production and scheduling needs," said Diane Rosso, Director of Administrations at Hidaka USA. "The audit record gives us timely and actionable insights."
"Hidaka USA has proven why leveraging the appropriate enterprise technology solution can be a boon to manufacturers seeking to operate efficiently and achieve a rapid ROI," stated AIM's Director of Implementation Services Jeff Sawka. "In order to compete in today's fast-moving economy, companies need access to accurate information and immediate visibility into the entire enterprise. AIM enables our clients to thrive in this competitive and challenging environment."
Access the YouTube video that describes the AIM Mobility Physical Inventory app HERE and download the Hidaka USA case study HERE.
About AIM Computer Solutions
AIM Computer Solutions, Inc., provides business software solutions for automotive manufacturers to meet specific ERP needs. The AIM Vision® solution, designed for small to mid-size repetitive automotive suppliers, provides customizable support from the shop floor to the front office. AIM Vision and its AIM Mobility Apps are designed to support an enterprise-wide automotive supply chain. For the latest news and updates, connect with AIM on LinkedIn, Facebook and follow @aimcomERPnews on Twitter. For more information go to http://www.aimcom.com.
Contact Information:
Patrick McLaughlin
Markit Strategies
http://www.markitstrategies.com
+1 (734) 255-6466
More from Software