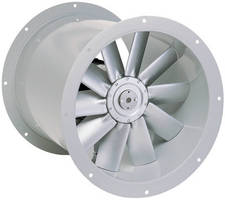 Where high efficiency and quiet operation are required, Continental Fan's AID Axial In-Line Fans offer the perfect solution. This innovative fan is available in diameters from 12" through 27", with capacities ranging to 11,400 CFM. Commonly used to move large volumes of air at medium and high pressures, AID Fans utilize ELTA adjustable pitch airfoil axial impellers to reduce noise and maximize performance. 



Continental Fan provides unique designs that are quiet, efficient and performance driven. 



FEATURES & BENEFITS

• Spark resistant, cast aluminum airfoil axial impeller

• Factory set adjustable pitch blades

• Superior performance and sound characteristics

• Steel housing with corrosion resistant paint

• Fully reversible airflow option

• Cast aluminum or GRP (polypropylene) blades

• Standard NEMA motors

• Fully reversible airflow option

• Diameters  from 12" to 27"

• Capacities to 11,400 cfm



The AID Axial In-Line Fan, a better AIRFLOW solution from:



……… better AIRFLOW by DESIGN™



For more information, visit us on the web to view our full line of OEM Solutions & Custom Fans.







More from Software