Ai-RIO Remote I/O Unit features dual-core P1020 power PC.
Press Release Summary: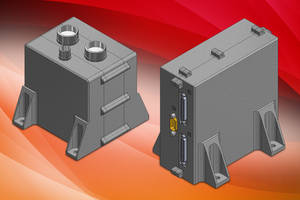 Made of 6061/T6 flight grade aluminum in 5.5 in. x 5.5 in. x 1.2 in. small form factor, Ai-RIO Remote I/O Unit features power switching, and mass/SD FLASH memory functionalities. Equipped with Gb Ethernet port with time sync IEEE-1588 support, ten RS-422 ports, two CANbus ports and sixteen GPIO, Ai-RIO is suitable in aerospace, defense and military applications. Weighing 3.75 lb with power dissipation of 12 W, unit provides command and data handling platform.
---
Original Press Release:
Modular Design of New Aitech Remote I/O Unit Offers Fine-Tuned Functionality for Aerospace and Defense Applications
Space-qualified Ai-RIO offers scalable intelligence, easy expansion for exceptional performance in a compact Small Form-Factor unit
Technical Specifications:
Scalable intelligence through highly integrated module 'slices' that add functionality as needed
Dual-core P1020 Power PC and rad-tolerant FPGAs for powerful performance in space and defense applications
Expandable with up to eight inter-networked units in compact form factor
Different I/O configurations enable flexible design
3.75 lbs with extremely low power dissipation of 12 W typical
Aitech Defense Systems Inc. has developed a new method of providing high performance, application-specific remote I/O management through the use of expansion modules, or "slices," in the new rugged, space-qualified Ai-RIO. Through its modular, small form-factor (SFF) structure, the remote I/O interface unit (RIU) is a system-of-systems that provides a new level of scalable intelligence that meets specific user requirements and adapts to evolving application needs.
The Ai-RIO is an extremely high density, low power rugged sub-system that provides exceptional, user-specific functionality. This compact unit occupies very little space in a variety of aerospace, defense and military applications. It is ideally suited for vehicle platform flight control, attitude and navigation controls, servo-valve and thrust vector control (TVC), robotic motor control, video and image processing and storage, data telemetry, platform stabilization, communications and telematics, high speed data recorders, booster and launch propulsion and thruster control, remote sensor and effector monitoring and much more.
Versatile Modularity for Scalable Intelligence
The Ai-RIO is easy expandable, with up to eight units networked together, for unprecedented functionality in a compact space. Added capabilities include I/O, power switching, mass/SD FLASH memory as well as other functionalities.
Offering one of the widest ranges of I/O available in a SFF platform, the remote I/O sub-system includes a Gb Ethernet port with precision time sync IEEE-1588 support, ten RS-422 ports (eight of which are RS-422/485), an additional eight LVDS or RS-422/485 UARTS as well as four SpaceWire ports with LVDS I/O, two CANbus ports and sixteen GPIO in two blocks of eight.
Using Aitech's RIO-NET client/server software as well as additional memory and I/O arrays, the new unit can serve as a standalone command and data handling (C&DH) platform or networked remote command/response I/O unit.
Meets High Performance Demands of Rugged Applications
The compact, rugged Ai-RIO features a powerful radiation-qualified, dual-core PowerPC processor with two rad-tolerant FPGAs. All internal electronics are conduction-cooled and mechanically fixed and housed within a sealed, EMI/EMC Faraday cage for maximum thermal transfer.
The housing is constructed of 6061/T6 flight grade aluminum and is based on a common 5.5" x 5.5" x 1.2" small form factor. The expansion modules can be single- or double width, incorporating one or two PWBs, respectively, measuring between 1" and 2", depending on connector width and type and module/"slice" board count.
External connectors can be either micro D-Subs for space applications or standard micro MIL-DTL-38999 circular military connectors for use in defense environments. The base unit configuration weight of an Ai-RIO is only 3.75 lbs with a power dissipation of less than 12 W.
Additional System Support
Each of the two e500 cores within the processor are monitored by its own watchdog timer that generates an internal CPU interrupt after the first expiration period or a hardware reset after a second timeout. A third external watchdog timer is located in the rad-tolerant FPGA that, when enabled, resets the entire subsystem after the first expiration period of the internal timers.
The Ai-RIO features onboard temperature sensors as well as A/D voltage and current monitoring with built-in test (BIT) for high reliability. The unit has been tested and characterized directly by Aitech for radiation effects over 25 krads (Si) TID at varied flux rates. The P1020 processor is immune to latch up, with other components meeting the heavy ion Linear Energy Transfer threshold (LETth) of at least 37 MeV-cm2/mg.
The Ai-RIO Series 100 lab-grade software development units will be available in Q2'17.
For more information please call 888-Aitech-8 (888-248-3248), visit http://rugged.com/ai-rio-remote-io-subsystem
E-mail: sales@rugged.com.
UPCOMING TRADESHOWS:
33rd National Space Symposium, Booth #1214 April 3-6, 2017, Colorado Springs, CO
Aviation Electronics Europe, Stand D4, April 25-26, 2017, Munich, Germany
ABOUT AITECH:
Established in 1983, Aitech offers military and space-qualified, commercial off-the-shelf (COTS) embedded computing products for rugged defense, aerospace and astronautics (space) applications as well as provides radiation tolerant and full MIL-SPEC solutions.
The company provides industry-standard, open architecture VMEbus, CompactPCI and high speed serial fabric-based boards, power subsystems, mass memory, enclosures and hardware subsystem integration along with logistics, configuration control, component obsolescence and earned-value management services.
Having pioneered the development of true military VMEbus products for use in mainstream defense and aerospace applications, Aitech utilizes its broad base of off-the-shelf products and technologies to also develop customer-specific solutions, deliver superior cost-performance and reliability, and expedite time to market.
Applications for its products range from mission processors, fire control, mission control and autonomous robotic subsystems for ground vehicles as well as surface and subsurface naval platforms to tactical and strategic fixed- and rotary-wing aircraft, and low- to high-earth orbit and deep space vehicles.
More from Electronic Components & Devices