AGC Chemicals to Feature New Polyether Polyols at The World Adhesive and Sealant Conference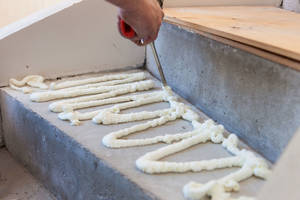 Exton, Pa., April 11, 2022 – AGC will introduce their newest polyether polyols with high molecular weight and various structures at the World Adhesive and Sealant Conference. These new grades enhance performance values of silane terminated hybrid polymer-based adhesives and sealants.
At the conference, Hajime Takeda, R&D, AGC, Inc. will present "Development of Various Structures of High Molecular Weight Polyether Polyol for Adhesives and Sealants." He will discuss the development of various structures of a high molecular weight polyether polyol by using an advanced catalyst. Silane terminated polyether (STP) made from these unique polyols is being used as raw material for high-functionality adhesives and sealants.
Mr. Takeda will present on April 26 at 11:15 a.m. CDT during the Silane Terminated Hybrid Polymers session. AGC, a bronze sponsor of the event, will feature these new products at booth 211. The World Adhesive and Sealant Conference is being held April 25–27 at the Hilton Chicago.
For more information about AGC's current line of high Mw polyether polyols for C.A.S.E. applications, click here.
 About AGC Chemicals Americas Inc.
AGC Chemicals Americas is a wholly owned subsidiary of AGC Inc., a $14.2 billion multinational corporation and one of the world's largest manufacturers of glass, electronic displays and chemical products. The company was formed in 2004 through the merging of sister companies Asahi Glass Fluoropolymers USA and AGA Chemicals. Headquartered in Exton, Pennsylvania, including a state-of-the-art technology center, AGC Chemicals Americas maintains manufacturing operations in nearby Thorndale, Pennsylvania, a satellite sales office in Sao Paulo, Brazil, and warehouses located throughout North America. www.agcchem.com
Media Contact:
Lisa Goetz
Schubert b2b
lgoetz@schubertb2b.com
+1-610-269-2100 Ext. 244