AGC Chemicals Americas to Present on Water-Based FEVE Resin Formulations for Durable Coatings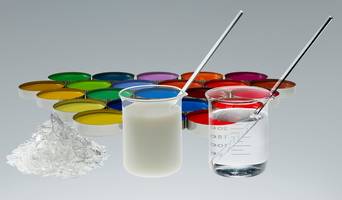 EXTON, Pa., January 29, 2018 – Donald C. Lawson III, senior applications chemist with AGC Chemicals Americas Inc., will present on the latest developments on FEVE water-based resins for coatings applications at the 2018 Waterborne Symposium. He will discuss formulating with FEVE water-based resins to achieve superior durability in weathering, physical properties, chemical resistance and corrosion resistance.
The presentation will address formulating guidelines when making both 2K water-based FEVE polyurethane coatings and 1K heat-cured factory applications. It will also explore the impact of NCO/OH index and catalyst presence on final properties, as well as the subsequent relationship of these properties to long-term coating performance.
In addition, AGC will feature LUMIFLON FEVE Resins for coatings at booth 206. AGC technology experts will be on hand to discuss the chemistry, performance and applications of these high-performance FEVE resins.
LUMIFLON FEVE resins have been used in paints and coatings on building exteriors and facades for more than 30 years. Topcoats formulated with FEVE-based resins offer outstanding gloss and color retention and protect metal and concrete structures from corrosion. When used on buildings, bridges, aircraft, automobiles, water towers and solar panels, FEVE-based topcoats do not degrade from UV light, wind, or rain and can be formulated to last 30 years or more. FEVE resins are available for almost any type of coating, including solvent-based, powder, environmentally friendly low-VOC and HAPs-free coatings, and water-based coatings.
The Waterborne Symposium will be held February 4-9 at the Astor Crowne Plaza in New Orleans. Mr. Lawson will present on Thursday, February 8 at 11:30 a.m.
About The Waterborne Symposium
From its inception, The Waterborne Symposium has been organized and executed by faculty, staff, and students of the School of Polymers and Engineering (formerly the School of Polymers and High Performance Materials) at The University of Southern Mississippi. Funds received are used for various elements of academic program development, including graduate student stipends, junior faculty development, equipment acquisition and maintenance, and especially, scholarships for undergraduate students majoring in Polymer Science and Polymer Science and Engineering, most of whom enter the coatings or related polymer industries upon graduation. www.waterbornesymposium.com
About AGC Chemicals Americas, Inc.
AGC Chemicals Americas, Inc. is a wholly owned subsidiary of Asahi Glass Company Ltd., a $11 billion multinational corporation and one of the world's largest manufacturers of glass, electronic displays and chemical products. The company was formed in 2004 through the merging of sister companies Asahi Glass Fluoropolymers USA and AGA Chemicals. Headquartered in Exton, Pa., AGC Chemicals Americas maintains manufacturing operations in nearby Thorndale, Pa., and warehouses located throughout North America. www.agcchem.com
Contact This Company Download Spec Sheet
More from Adhesives & Sealants