After-Sales Support and Customer Services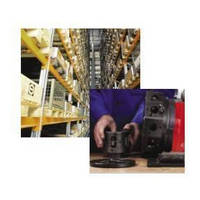 The responsibilities we have to our valued customers not only include sharing our knowledge of the products during the initial sale, but also to provide technical support and assistance whenever needed. Our factory trained customer support team is always available to assist you with any questions that may arise during any routine maintenance or more involved service work that you may be engaged in.



We maintain an extensive inventory of genuine factory wear and tear parts for all of the products that we have delivered to support your preventive maintenance requirements.



Our objective at Indexing Technologies Inc. is to keep our customers satisfied and their machines and equipment up and running.  Just give us a call and our knowledgeable staff is available to assist in determining your needs and answering any questions you may have.



Indexing Technologies Inc. also operates a repair department with factory trained personnel, who provide fast and reliable turn-around, using state of the art diagnostic and testing equipment to ensure that the job is done right the first time. In addition, we also provide on-site visits to conduct repair work for your machine and/or to train your personnel.



At Indexing Technologies Inc., we not only stand behind the products we sell, but we stand behind the services that follow afterwards with a 100% exclusive guarantee against defective material and faulty workmanship.



More from Software