AFLAS® 100 Series Fluoroelastomers Enhance Performance of Pumps, Valves and Seals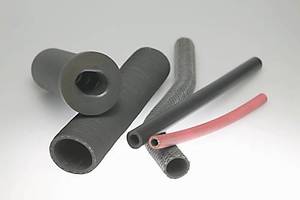 EXTON, Pa., August 21, 2019 — Components used in industrial equipment must withstand taxing conditions in order to reduce downtime needed to repair or replace malfunctioning parts. To help manufacturers of industrial parts address this challenge, AGC Chemicals Americas offers AFLAS® 100 series fluoroelastomers to enhance the performance and extend the life of pumps, seals and valves used in a variety of harsh processing applications.
AFLAS fluoroelastomers are resistant to acids, bases, solvents, hydrocarbons, sour oil and amines, as well as extreme temperature ranges and high-pressure environments. They are easily compounded by open mill and internal mixers. These compounds are then fabricated into finished parts and shapes using press molding, injection molding, extrusion and calendering processes.
Parts made with AFLAS fluoroelastomers are ideal for industries including oil and gas, chemical processing, heavy-duty diesel, wire and cable, industrial, pharmaceutical and food handling. AFLAS 150P, 100S and 100H are FDA approved for food contact in the A-H temperature range.
AFLAS fluoroelastomers are copolymers of tetrafluoroethylene and propylene with high molecular weights, providing AFLAS products with unique properties over conventional FKM-type fluoroelastomers. Classified by ASTM D 1418-01 as FEPM, AFLAS products do not deteriorate under prolonged exposure at 200 °C. AFLAS fluoroelastomers are manufactured without PFOA.
For more information about AFLAS fluoroelastomers, click here.
About AGC Chemicals Americas Inc.
AGC Chemicals Americas is a wholly owned subsidiary of AGC Inc., a $13.6 billion multinational corporation and one of the world's largest manufacturers of glass, electronic displays, and chemical products. The company was formed in 2004 through the merging of sister companies Asahi Glass Fluoropolymers and AGA Chemicals. Headquartered in Exton, PA, including a state-of-the-art technology center, AGC Chemicals Americas maintains manufacturing operations in nearby Thorndale, PA., a satellite sales office in Sao Paulo, Brazil, and warehouses located throughout North America. www.agcchem.com
Media Contact
Lisa Goetz
Schubert b2b
610-269-2100 x244