Affordable Productivity from NCMT with Launch of Entry-Level Okuma Machines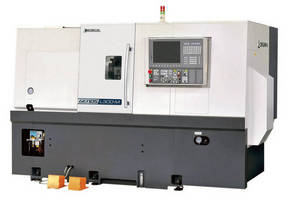 New turning machine to make UK debut; machining centres also to be announced

NCMT will launch at MACH 2012 a new range of early-entry machine tools from Okuma, a Japanese manufacturer better known for its high-end machining centres and lathes. Called GENOS, the programme comprises two machining centres and fourteen CNC turning centres, one of which, a twin-spindle model, will be under power at the show.

The GENOS series started with the development of the M460-VE vertical machining centre with 762 x 460 x 460 mm axis travels. It was followed by the M560-V with 1,050 x 560 x 460 mm working envelope that also extended maximum table load from 700 to 900 kg. Both machines feature a CAT40 BIG Plus spindle moving in the X and Z axes, with the table moving in Y. A 30-position tool magazine and Okuma's own OSP-P200M control are provided. Software can be added, such as Machining Navi L-g to find the best cutting conditions for minimum chatter, and CAS for collision avoidance.

The 14 lathes offer a variety of combinations of spindle, bed size, tool turret, static or driven tooling, Y-axis, and tailstock or counter spindle. There is also the option of robotic or other automated systems for workpiece load / unload.

The GENOS lathe on show will be the 10-inch chuck L300MW, which has a 6,000 rpm counter spindle with a 520 mm W-axis stroke. Together with C-axis on the 3,000 rpm main spindle, plus programmable linear motions in X and Z but not Y, the machine offers four CNC axes for one-hit mill-turning in combination with 12 live positions in the turret. Interestingly, its Prex motor is responsible for turret index and tool drive, simplifying construction and reducing heat generation. Maximum turning diameter is 300 mm.

GENOS machines have fewer standard functions and options than other Okuma lathes, allowing the lower price point to be achieved. There has, however, been no compromise on build quality. The manufacturer is renowned for manufacturing, and hence being able to control the quality of, the majority of components that go into its machines, including drives, encoders, scales, and ballscrews. These are also to be found in all the entry-level GENOS products.

Multi-function mill-turning machine

At the other end of the turning spectrum, the eight-tonne Multus B200W mill-turn centre will demonstrate Okuma's approach to high-end, multi-functional machining using impressive milling capability. With up to 22kW of main spindle power and an 11 kW counter spindle for turning, the machine is also capable of performing prismatic machining operations using a milling spindle rated at 12 kW mounted on a swivelling, 225-degree B-axis.

The slant-bed lathe achieves high machining accuracy in a normal shop floor environment. Tests have shown thermal deviation to be less than 10 microns over a 24-hour period, despite a variation in ambient temperature of 8°C. This performance is a result of the application of Okuma's patented Thermo Friendly Concept to both the machine structure and the spindle, together with the use of 0.1-micron resolution linear scales in the orthogonal axes.

The machine has the added benefit of the manufacturer's OSP-P200 control, which uses an industrially hardened PC to run both the Okuma operating system and Windows XP. A feature of the control is the most comprehensive collision prediction and avoidance system currently available. The entire machining area right out to the spindle head, slideways and guarding is monitored in real time during an automatic machining cycle or, unusually, in manual mode as well, preventing the axes being wound by hand into a collision situation.

First public demonstration of patented turning software from Okuma

Although Okuma's TurnCut software was introduced as far back as EMO 2007, MACH 2012 will mark the first demonstration at a national UK exhibition of this highly productive machining process. NCMT is keen to promote it further, as despite it being a difficult concept to describe, once manufacturers adopt it, as several in the UK already have, the productivity gains can be enormous for the right applications.

The patented software provides a new, faster and more accurate way of turning tapered bores and outside diameters using Okuma horizontal machining centres. Components requiring turning as well as prismatic machining may therefore be produced in fewer set-ups, leading to cost reductions and greater accuracy.

Turn-cutting is a cost-effective and very accurate alternative to established ways of turning on a machining centre, namely using either a facing head or a rotary table and a static turning tool in the spindle. Even when a family of straight bores is being cut and taper turning is not employed, the technique is still cost-efficient, as it avoids the need to purchase a number of expensive boring bars.

TurnCut software runs in the OSP-P200M control of Okuma horizontal machining centres. At MACH 2012, visitors will be able to see a video showing how a single-point tool in the spindle is able to turn a static component by rapid circular-interpolation of the X and Y axes while feeding forward in Z. As the workpiece does not move, eccentric components can be machined as effortlessly as those that are symmetrical.

The clever part, which forms the core of the TurnCut patent, is the ability of the control to continuously orientate the tool in the spindle by rotating it at precisely the same speed as, and in synchrony with, the circular X/Y path. The tool therefore cuts at the correct rake angle at every point throughout the 360-degrees to ensure efficient and precise metal removal. Linear feed rates of up to 60 m/min allow a wide spread of rotational cutting speeds to be generated.

Cylindrical bores and ODs are easily achieved by keeping the X/Y travels constant, while tapers and other profiles can be turned by varying the amplitude of circular interpolation. Accuracy to within microns is achieved and it is this degree of precision that is crucial. Some machine manufacturers might be able to approximate the procedure, but only for open-tolerance work.

NEW SURFACE GRINDING MACHINE

Okamoto's new ACC64CA-iQ surface grinder will be demonstrated for the first time in the UK. Rigidity of the column, bed, table and guideways combined with 7.5 kW direct drive to the grinding wheel minimise vibration and deflection, even when running at full power with a workpiece of up to one tonne on the 600 mm x 400 mm table. A 40 m/min linear motor performs the longitudinal axis motion, helping to endow the machine with 40 per cent higher productivity than previous comparable grinder models.

Compared with other machines in its class, the grinder provides some of the highest levels of functionality in terms of ease of set-up, simplicity of use, reliability and accuracy. The column effects the cross movement, rather than a saddle as in smaller models, giving easier access for loading and unloading larger workpieces.

Super-precision, pre-loaded ball bearings ensure wheel spindle stiffness. The grinding wheel is 355 mm diameter by 38 mm wide wheel and rotates at 500 to 2,500 rpm. Two separate downfeed rates may be set from 0 to 30 microns for coarse feed and 0 to 10 microns for fine feed, change points being independently adjustable. Sparkout is set between 0 and 99 reciprocations. Wheelhead feed can be performed manually via an electronic handwheel in three increments - 0.0001, 0.001 or 0.01 mm.

The machine on show will be fitted with an easy to program, conversational, 2-axis CNC system. Until recently, complex grinding tasks relied on the experience of a skilled operator. The development of the new Okamoto iQ touch-screen control and its easy to use software, coupled with the machine's inherent mechanical accuracy, allows impressive results to be achieved by anyone. By breaking down complex tasks into simple, basic operations, even unskilled operators can use the machine with maximum efficiency.

Setting is divided into two parts: wheel dressing and grinding. A logical graphical representation of each of these operations serves to guide the operator through the setting process. It is made even easier by the use of easy to understand icons displayed on a generously sized colour screen.

SHOP FLOOR TOOL PRESETTER

A feature of the NCMT stand will be the Speroni ESPERIA STP46 tool presetter. Of rigid construction and designed for shop floor use, it incorporates a novel taper adaptor and a claw system that accommodates all pull stud designs, allowing changeover for setting different tool tapers in just eight seconds. Repeatability of positioning is to within half a micron.

As with all Speroni tool presetters, the thermo-balanced structure is made of artificially aged, pearlitic cast iron to ensure the equipment is fully isostatic and will not deform or distort over time or as the temperature changes.

Unlike most presetter designs, the homogeneous structure avoids the drawbacks of systems that use light alloys and/or granite, which have different and unstable reactions to changes in temperature and the environment. There is consequently no need for frequent recalibrations during a shift due to temperature changes.

Both hardware and software are developed and produced in-house by Speroni, whilst peripheral equipment is sourced from the very best suppliers - Schneeberger linear guideways, Heidenhain encoders, Sony camera, etc.

INNOVATIVE CUTTING TOOLS AND TOOLHOLDERS FROM BIG DAISHOWA

New, indexable-insert radiusing tool

In addition to showing the BIG range of face and taper toolholders, NCMT will launch a new series of cutting tools from the Japanese manufacturer. Called R-Cutter, it is an indexable-insert radiusing tool that can have either one, or very unusually four, inserts. Normally, such tools with multiple cutting edges would be of solid carbide construction, which are expensive to buy and regrind.

Key to the successful deployment of four indexable inserts on a shank as small as 16 mm diameter is very rigid retention of each of the 4-cornered, coated carbide inserts. There are eight types for machining radii from 0.5 to 4.0 mm. A high rake angle reduces cutting forces and minimises burrs, while the presence of four inserts increases feed rates dramatically compared with single-insert tools.

There are two types of R-Cutter, one dedicated to front radiusing and the other capable of putting a radius on both the front and back of a component. The latter type are supplied in one- and four-insert variants with shanks up to 32 mm, while the exclusively front radiusing models are of single-insert design with up to 20 mm diameter shanks.

Expanded range of chamfering tools

When BIG Daishowa first introduced its purpose-designed C-Cutters for high precision plunge-chamfering of holes, it used a standard chamfer angle of 45 degrees. Now the company has introduced two additional fixed-angle cutters for chamfering at 30 and 60 degrees respectively, as well as a universal type on which the angle can be set anywhere between five and 85 degrees.

The range comprises two 30-degree tools for chamfering holes from 16 to 85 mm diameter and three 60-degree tools for 14 to 65 mm diameter holes. The original 45-degree C-Cutters can machine holes up to 100 mm diameter. The wide, overlapping chamfering ranges save on the number of toolholders needed, minimising unproductive tool change times and the number of pots occupied in the tool magazine.

Adjustable nozzles direct coolant efficiently to the point of cutting to allow high feeds and speeds. The two sharp cutting edges of each parallelogram-shaped carbide insert, which is securely clamped by a double screw system, enable a high quality surface finish to be achieved on the chamfer, despite cutting speeds up to 240 mm/min and feed rates up to 0.6 mm/rev. This is in contrast to some tools on the market that use standard inserts, which tend to chatter when chamfering due to compromised rake and clearance angles.

The Universal C-Cutter employs a novel cartridge system for adjusting the insert angle quickly using a hex key and a direct circular scale. The shallowest chamfer angle of five degrees requires a minimum hole diameter of 5.5 mm, while for the steepest 85-degree chamfer, smallest hole diameter is 38.8 mm.

Tapping Holder improves thread quality and tool life

A BIG Daishowa tool for synchronous tapping will also be on the NCMT stand. The Mega Synchro Tapping Holder compensates for synchronisation errors during rigid tapping by reducing the thrust load to both the tap and the workpiece by up to 90 percent, improving thread quality and tap life.

The error compensation is facilitated through a novel mechanism that absorbs the pitch difference between the tap and synchronous spindle. The Mega Synchro is capable of supplying coolant through slits to the tap periphery as well as through the tool. Its design allows for the tap holder to be isolated from the axial pressure of the coolant.

The holder is available in a variety of lengths and spindle interfaces, including BBT, HSK and Capto. Tool bodies in 41 varieties and 172 standard tap adapters offer a wide range of configurations.

TOOLS FOR AGGRESSIVE DEBURRING

Made from heavy duty aluminium oxide (alumina) fibres, a new range of abrasive brushes for high-precision removal of heavy burrs has been introduced by Xebec Technology, Japan. They are available in the UK through NCMT.

Characterised by their blue colour and containing 70 per cent alumina by weight, the brushes may be used on static platforms such as machining centres, mills, drilling machines and special-purpose machine tools, but are equally suitable for mounting on industrial robots. Versions are also available for hand-held power tools.

The brushes will be on show for the first time in the UK at MACH 2012. Each comprises blue rods consisting of 500 alumina fibre filaments measuring 25 microns in diameter. The self-sharpening cutting action is on the tips only, there being no abrasive effect on the sides of the rods.

Dozens or hundreds of parallel rods, depending on tool size, go to make up the hollow, cylindrical tool rather like an elongated cup. The rods are prevented from splaying under centrifugal force by a metal sleeve whose ID is approximately the same as the OD of the tool.

The thicker blue fibres have been added to the existing range of white, red and pink fibres. White previously provided the highest deburring and finishing action, with their one thousand 15-micron filaments. Machining performance using the blue variety is much higher, with double the abrasive power, allowing burrs of 1 mm to be tackled, such as those produced during hobbing or pressworking. On flat surfaces, processing performance is said to be four times higher.

Tools are from six to 100 mm in diameter. Despite the fast metal removal rate, the tools wear slowly due to their high alumina content and as a result of their resistance to high temperatures. They are also tolerant of water- and oil-based coolants, although the brushes are equally capable of cutting dry.

NCMT Limited, Ferry Works, Summer Road

Thames Ditton, Surrey KT7 0QJ

Tel: 020 8398 4277. Fax: 020 8398 3631.

Web: www.ncmt.co.uk

E-mail: daveburley@ncmt.co.uk

Contact: Dave Burley, Managing Director.

THE RIGHT IMAGE Ltd,

PO Box 42, Twickenham, TW1 1BQ.

Tel: 020 8891 0603.

E-mail: chris@therightimage.net

Contact: Chris Wright.

More from Architectural & Civil Engineering Products