Aerotech's New ALS130H Series Direct Drive Positioning Stages Provide Ultra-Low Speed Scanning Solution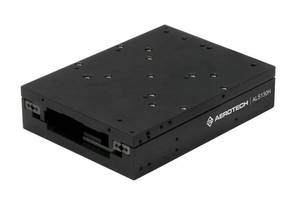 September/2008

Aerotech's new ALS130H series linear motor driven positioning stages have been designed for ultra high precision scanning and positioning applications where sub-nanometre level resolution needs to be combined with exceptional smoothness, high traversing speeds and fast acceleration over travel ranges up to 150 mm. The classic two-part stage design outperforms leadscrew driven alternatives with their inherent friction related stick-slip problems and offers a far higher load acceleration force than piezo based positioners.

The 'H' stage design brings together the latest technologies available from Aerotech, building upon and improving the performance of the highly successful ALS130 series to combine a centre driven zero-cogging brushless linear motor, anti-cage creep cross roller bearings and a 4.0 micron glass scale linear encoder with 40 MHz encoder processing when used with Aerotech's motion controls. The result is a compact and ultra-stiff mechanical system for high performance test, measurement and inspection applications, capable of delivering exceptionally smooth low speed performance with vibration free, ultra-fine resolution.

The ALS130H is available in a choice of 25 mm, 50 mm, 100 mm, and 150 mm travel ranges in single axis or pre-aligned X-Y configurations. Stage resolution is from 0.5 nanometres to 1.0 microns with maximum acceleration to 1g (no load) and maximum speeds to 300 mm/sec. Bi-directional repeatability, measured in accordance with Aerotech's stringent certification standards is within 75 nanometres. Best accuracy using Aerotech's HALAR calibration is to ± 0.3 microns. Equally impressive are the straightness and flatness specifications which exceed ± 3.0 microns for the 150 mm travel version.

With direct load capability up to 12 kg, the small footprint and low profile housing is just 130 mm wide and 40 m high, for the 25 mm travel version. Overall extended length is less than 200 mm. The two-part stage housing is black anodised aluminium with a high durability hardcoat finish and the table top includes ample threaded inserts for customer fixture mounting. Cable assemblies are included and full cable management is available for single-axis or X-Y configurations. Maintenance requirements are minimal - with its non contact motor and encoder design and highly durable bearing system, a long and trouble free working life is guaranteed.Aerotech provides motion controls and the drive technologies that fully realise the ultra high resolution capability of the ALS130H. NDrive HL series DSP based linear stage servo amplifiers provide superb linearity with high bandwidth, very low jitter, zero crossover distortion and the ultra-quiet EMC characteristics that are essential for sub nanometre applications.

Linear stage drive technology is available with a choice of motion controllers to suit the customers' application requirements. Aerotech's A3200 Digital Automation Platform combines motion control, HMI, PLC and vision control modules in a PC based software only machine control system. Using an industry standard Firewire® communication network, the A3200 can control up to 32 axes of high speed deterministic motion in a distributed control architecture that considerably reduces installation and commission effort. By combining position, velocity, and time commands with critical I/O information, the A3200 handles deterministic machine and motion control networked to Aerotech's DSP based Ndrive digital servo amplifiers which are available in a wide range of power options with linear or PWM output stages. The A3200 includes several application relevant software commands that simplify complex, tightly synchronised motion and machine control with a choice of software platforms that includes powerful .NET programming, RS-274 G-code, high level AeroBASIC(TM) or optional LabVIEW(TM).

For customers who prefer a standalone solution standalone, Aerotech's Ensemble(TM) Epaq is a fully integrated desktop or 19 inch rack mounted system capable of controlling up to 6 axes of motion and machine control. With integral linear or PWM stage amplifiers and a full complement of machine I/O, the Epaq is capable of driving and controlling the ALS130H linear motor and any combination of linear and rotary brushless, brushed or micro-stepping motors. The system may also be expanded for a further three external drives, offering 9 axes of completely synchronised motion and machine control.

As with all Aerotech mechanical systems and controls, each system is delivered fully tested with all set-up parameters pre-loaded into the controller and all documentation included, making system commissioning straightforward, speeding development times and ensuring that the total cost of ownership is extremely competitive.