Aerotech APT Series Pan and Tilt Systems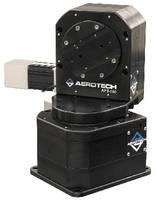 Meet the Needs of Security, Defense, and Surveillance Markets

o Inertially stabilized

o Weather-sealed versions

o Continuous 360° pan rotation including built-in slip ring

o High accuracy position and rate capability

o Integrated electronics for easy setup and system integration

o Low maintenance and high reliability provide the lowest cost of ownership

Aerotech Pan and Tilt (APT) systems are designed for your most demanding positioning requirements. Building on Aerotech's extensive experience in building AZ/EL positioning systems, direct-drive rotary stages, and motion simulators for the military, government agencies, academic institutions, and private industry, the APT series expands our product line to meet the needs of the security, defense, and surveillance markets worldwide.

The APT series high-precision pan and tilt mounts combine proven high-precision mechanics with industry-leading control technology in a single, unified package. The drive mechanism includes a unique gear preloading feature that self-adjusts for the effects of wear and temperature variation, resulting in no degradation in positioning performance over the life of the product. A built-in Aerotech Ensemble controller responds to motion commands via an Ethernet connection, or it can be programmed to operate in a stand-alone configuration.

APT performance specifications include continuous 360° pan with a maximum speed of 180°/second, tilt range of ±95° with a maximum speed of 180°/second, position resolution of 7.6 arc seconds, and position accuracy of 120 arc seconds. The 35 kg payload allows mounting of a variety of different cameras.

An integrated slip-ring carries camera connections to the base of the unit. Continuous pan rotation with limited-travel tilt is standard. Options are available to meet a wide range of camera mounting, signal feed-through, and termination requirements. An inertial stabilization option is available that integrates gyroscopes and inertial sensors to actively maintain the line-of-sight when operated on aircraft, ships, and land vehicles.

For further information, please contact Steve McLane at 412-967-6854 (direct), or via e-mail at [email protected]. In addition, the APT Series data sheet is available at http://www.aerotech.com/products/optmnts/apt.html.