Servo Motor Controllers and Drives
Aerotech Add Manual Optical Mounts to Its Fast Delivery Service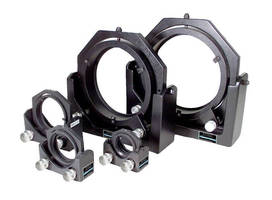 October/2008

Aerotech has now added manual optical mounts to its Fast Delivery Service guaranteeing a 5-day turnaround for urgent orders with no extra costs incurred.

The AOM110 series covers 8 models for optical component diameter/thickness capability from 50.8 mm/12.7 mm to 304.8 mm/53.85 mm. With a pedigree of successful applications in major fusion and high-powered laser research projects, a patented manual positioning screw provides ultra-fine position control with sub arc-second resolution, and the robust frame provides high vibration resistance and excellent thermal stability.

Ball bearing gimbal pivots and spring based preload ensures low stiction, backlash free motion over the full travel range and permits mounting in any plane, including upside-down. An improved non-marring component clamp screw and rotating clip allows rigid placement of optical components and a modified base design allows transmission of larger diameter beams at a 45° incidence.

Other products covered by Aerotech's Fast Delivery Service include ADRS direct drive rotary stages, ATS series direct drive linear stages, 23 and 34 NEMA frame brushless servomotors, and Soloist(TM) CP motion controllers. Lead times from the manufacturing plant are 10 working days for stages and under 5 days for motion controls.

The FDS programme is available throughout Europe from Aerotech's UK and German sales offices or through appointed distributors.