Fire Extinguisher and Fire Suppression Systems
Aerosol Fire Suppression System protects computer/server rooms.
Press Release Summary: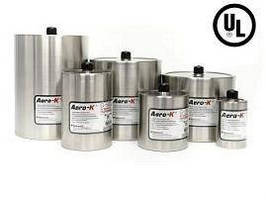 Used as standalone system and able to replace wet sprinklers, Aero-K® system utilizes potassium-based, environmentally friendly agent that is non-toxic to humans and will not harm equipment/information. On contact, agent effectively suppresses fire without displacing oxygen. Able to retrofit into existing spaces, proactive and smoke-activated system is not permanent fixture. It can be expanded, reduced, and relocated and does not require pressure vessels or piping.
---
Original Press Release:
Peripheral Manufacturing, Inc. Announces Aero-K®, a New Aerosol Computer/Server Room Fire Suppression System
PERIPHERAL MANUFACTURING, INC. is a Denver, Colorado based company that is pleased to announce Aero-K® a new Aerosol Computer/Server Room Fire Suppression System. Aero-K® can be used as a stand alone System and can often times replace Wet Sprinklers. The Aero-K® agent is a potassium based Aerosol spray that will not harm your equipment and or information. Aero-K® is environmentally friendly (100% Green) and non-toxic to humans. On contact, the Aero-K® agent suppresses fire without displacing oxygen and is extremely effective. Aero-K® Systems retro fit into existing spaces and are easily installed using minimal space. Very proactive, smoke activated Aero-K® Fire Suppression Systems are low maintenance, resulting in long term cost savings and has a ten year shelf life. Aero-K® is not a permanent fixture and be expanded, reduced, and easily relocated. An Aero-K® System does not require pressure vessels, piping, or expensive installations costs. When discharged, gaseous systems literarily pressurize the Protected Area. When using a gaseous agent, the Protected Area must be sealed tight enough that it can hold the pressurized gas agent for up to ten minutes. Unlike gaseous agents, when discharged, the Aero-K® agent becomes slightly lighter than air and does not pressurize the Protected Area. This characteristic allows the Aero-K® agent to be used in enclosed Areas that are not fully sealed, therefore reducing overall installation costs. Aero-K® has been successfully tested to NFPA Standard 2127 and is Underwriters Laboratories of the US and Canada Listed. The Aero-K® ® agent is also listed by Underwriters Laboratories, successfully tested to NFPA Standard 2010, and is many more times effective than a large variety of alternative agents. Aero-K® has been awarded a GSA contract # GS-07F-0462V and is listed on GSA Advantage. Peripheral Manufacturing, Inc's President, Ron Carboy states that this is a true, 21st Century Solution to Aerosol Fire Suppression Protection, electrical and non-electrical, for protection of Computer Rooms, Telecommunication Sites, Power Plants, Wind Turbines, Flammable Liquid Hazmat Storage Areas, Lock Outs, CNC Machines, and a host of Marine Environments. In curtain applications heat activation, not smoke activation may be preferred. Thermally activated Aero-K® Generators come in a variety of sizes. Peripheral Manufacturing, Inc. has been business for 32 years. In additional to Fire Suppression Peripherals manufactures markets a complete line of commercial portable air conditioners, hard drive degaussers, and server room furniture. For additional information please contact Ron Carboy at 1-800-468-6888, or email at periphman@periphman.com Visit Peripheral's website at www.periphman.com or www.server-room-furniture.com to view a Video slide show of the Aero-K® Fire Suppression System
More from Explosives, Armaments, and Weaponry