Aerosol Adhesive stabilizes materials for shipping.
Press Release Summary: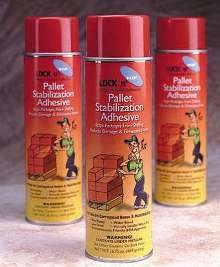 Pallet-stabilizing Lock n'Pop is for low-volume use for materials in storage and securing airfreight shipments. Adhesive assures that packages won't slide, yet separates with no evidence of adhesive use. Designed for paper surfaces including white, printed, and non-printed corrugated boxes and multi-walled bags, adhesive is safe for indoor use. Aerosol is water-based and biodegradable, and is safe for indirect contact with food.
---
Original Press Release:
Aerosol Lock N'Pop is New and Convenient Adhesive for Pallet Stabilizing, Shipping Needs

The new Lock n'Pop aerosol weds the dispensing convenience and portability of an aerosol can to the strength of Lock n' Pop's pallet stabilizing adhesives. "Lock n'Pop in a Can" is designed for low volume use in rework stations or other locations, and can be used for stablizing materials in storage, to secure airfreight shipments and is also ideal for situations where stretch wrap is not available or desired. The Lock n'Pop adhesive
assures that packages won't slide, and yet will separate easily with no evidence of adhesive use. Designed to work on paper surfaces including kraft, white, printed and non-printed corrugated boxes and multi-walled bags, Lock n'Pop aerosol is safe for indoor use and will reduce transit damage and cost.

This new aerosol is ideal for manual stacking operations, pick-n-pack shipments, or where a 55 gallon drum quantity of Lock n'Pop adhesive is too much. Like all Lock n'Pop adhesives, the new aerosol is water-based and biodegradable, formulated from non-toxic FDA approved ingredients and is safe for indirect contact with food. A small amount of the adhesive, sprayed on the surface of one package prior to the next package being stacked on
top, works quickly to prevent packages from shifting in just a few seconds, and actual bonding will begin in minutes. Once set, the bond is not affected by heat, cold, humidity or time. A simple upward push on the top package releases the bond, and Lock n'Pop adhesive is virtually invisible on package
surfaces, leaving no tackiness or trace of disturbance on even highly printed cartons and bags.

Lock n'Pop pallet stabilizing adhesives reduce packaging cost, labor cost, and disposal cost. Shippers can eliminate banding, corner posts, tier sheets and dunnage by using Lock n'Pop adhesives for pallet load stabilization.

Lock n'Pop can also reduce or completely eliminate the need for stretch wrap. Unlike gummy glues and hot melt adhesives, Lock n'Pop is applied cold and thus eliminates the danger of burns in the workplace.

ABOUT LOCK N'POP: Lock n' Pop is owned by Key Tech Corporation of Lynnwood, Washington USA, a supplier of specialty chemicals to the paper and pulp industry. Key Tech was the developer of "surface frictionalizing technology", the forerunner of the Lock n' Pop pallet unitizing system. Lock n' Pop is now the world market leader in environmental unitizing, having unitized more than 200 million pallets. The company maintains an active R&D lab for development of both custom formulations and advancements in existing adhesive products. Lock n' Pop adhesives and systems are distributed in Canada, Europe, Great Britain, South America, Mexico, Australia, New Zealand, Japan and Korea.

For More Information, contact:

Tami Dalberg, Sales & Marketing

Lock n'Pop

20508 56th Avenue West

Lynnwood, WA 98036 USA

Tel: 425 347 3600 or

Toll Free 800 225 3009

Fax: 425 290 6464

E-Mail: tami.dalberg@locknpop.com

URL: www.locknpop.com

More from Chemicals & Gases