Aeroseal Duct Sealing Wins 2018 Dealer Design Award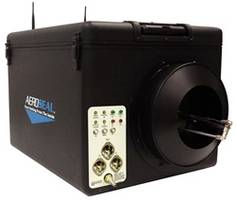 The New Aeroseal HomeSeal Connect Duct Sealing System Recognized As An Industry Innovation Offering An Ideal Revenue Source For HVAC Contractors
CENTERVILLE, OHIO (PRWEB) JULY 25, 2018 - Aeroseal LLC today announced that their HomeSeal Connect duct sealing system was selected as a winner in the 2018 Dealer Design Awards (DDA), an industry coveted honor presented each year by The Air Conditioning, Heating and Refrigeration NEWS magazine (ACHR NEWS). HomeSeal Connect was selected from among nearly 100 competing entries to receive the Bronze award in this year's Contractor Services and Software category.
Aeroseal's HomeSeal Connect received the award for its innovative design and features which make it an ideal tool for HVAC professionals and other residential contractors looking to increase profitability and meet the growing homeowner demand for duct sealing services.
This is the third year and fourth DDA award presented to Aeroseal LLC for its industry-changing duct sealing technology. In 2014, Aeroseal received the silver DDA award in the High Efficiency Residential Equipment category for its original HomeSeal duct sealing system. In 2016, Aeroseal received two silver DDA awards; one for its enhanced HomeSeal PRO system winning in the High Efficiency Residential Equipment category and its Mobile PRO system winning in the Ventilation Products category.
"The dealer design award is a particularly coveted honor because winners are chosen by a panel of nearly two dozen HVAC professionals – individuals who are active within the industry and who really have their finger on the pulse of what's happening out in the field," said Bryan Barnes, VP - Business Development – Aeroseal. "This award is a testament to the growing demand for duct sealing services and to the impact that aeroseal technology is having on making duct sealing productive and profitable."
The announcement that Aeroseal LLC received a 2018 Dealer Design Award comes on the heels of the company recently receiving the 2018 Environmental Leader award, another prestigious industry honor. Last month, the duct sealing technology was not only chosen to receive one of several Product of The Year awards by Environmental Leader magazine, but it was also chosen above all other award recipients to receive the Judge's Choice award – the event's highest honor.
About Aeroseal LLC
Aeroseal, LLC is one of the fastest growing clean technologies companies in the world. The company's debut technology, aeroseal duct sealing technology, solves the endemic problems associated with duct leakage in residential homes and commercial buildings. Originally developed at Lawrence Berkeley National Laboratory with funding from the D.O.E, EPA and others, aeroseal technology is used in both new construction and in existing projects where issues involving comfort, indoor air quality, and energy efficiency, as well as meeting new building specifications, are a concern. Unlike tape and mastic, the aeroseal technology uses a computerized process that works from inside the ductwork to automatically locate and seal leaks. This unique approach to duct sealing is so effective that it is guaranteed to meet building code requirements the first time when used to seal ductwork in new residential construction. Aeroseal LLC has also developed a breakthrough air sealing technology, called AeroBarrier. This technology is helping builders reach airtightness standards that were once cost prohibitive and nearly impossible to achieve in new construction projects. For more information about HomeSeal Connect or Aeroseal technologies visit http://www.aeroseal.com.
Contact Information
BRAD BRENNER
Brenner Associates
+1 (503) 736-0610
More from Mechanical Power Transmission