AEM Pre-Compound extends temperature limit in auto applications.
Press Release Summary: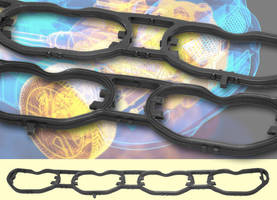 With heat resistance and long-term static heat aging characteristics, DuPont™ Vamac® VMX5000 ethylene acrylic elastomer (AEM) pre-compounds offer alternative to fluoroelastomers (FKM) in 160 to 190°C range for automotive hoses and seals required by such trends as high-pressure turbo charging and exhaust gas recirculation. Pre-compounds additionally exhibit acid and base resistance, and incorporated filler system facilitates production of colored non-black parts.
---
Original Press Release:

New DuPont(TM) Vamac® AEM Takes the Heat



Vamac® VMX5000 Raises the Performance of AEM in Seals and Gaskets, Air Management Systems and High-Temperature Coolant Hose Applications



GENEVA – At DKT/IRC 2015, DuPont Performance Polymers (DPP) introduced DuPont™ Vamac® VMX5000, a new and commercially available family of ethylene acrylic elastomer (AEM) pre-compounds that extend the upper temperature limit for AEM applications by 15 to 20°C – offering heat resistance as yet unmatched in AEM, coupled with a long-term improvement in static heat ageing.



The new Vamac® AEM pre-compounds, currently under evaluation by major auto OEMs and Tier 1 suppliers for seals and gaskets, air management system applications and high-temperature coolant hose covers, are expected to offer a viable alternative to fluoroelastomers (FKM) at significantly lower cost and lower specific weight, in a temperature range between 160°C to 190°C – especially where standard acrylic, ethylene vinyl acetate or AEM elastomers are no longer considered.



"We developed Vamac® VMX5000 to fulfil the latest auto industry needs for materials that can withstand more aggressive, engine environments. The new Vamac® pre-compound does that by pushing the upper AEM in use temperature, and offers a very cost-effective solution." said Patrick Cazuc, global marketing manager for Automotive at DuPont Performance Polymers.



"It also underlines the DuPont commitment to expanding the Vamac® family of AEM products that help auto OEMs and Tier 1 suppliers meet engine efficiency targets, particularly in air management systems," Cazuc added.



Vamac® VMX5000 is designed to meet new challenges to automotive hoses and seals imposed by new industry trends such as high-pressure turbo charging, exhaust gas recirculation and other technologies requiring resistance to higher temperatures and aggressive fluids. The new Vamac® pre-compounds also exhibit improved acid and base resistance compared to bisphenol cured FKM compounds, a feature of increasing importance for parts in contact with new oils containing aggressive additive packages or Blow-By.



Additionally, products in the Vamac® VMX5000 Series incorporate a new filler system enabling much easier production of coloured non-black parts, leading to better optical colour control combined with superior compression set resistance.



DPP also launched Vamac® VMX2122 AEM, a new dipolymer for wire and cable applications offering better physical properties and processing performance than current AEM DP dipolymers, combined with enhanced colour stability. It also meets existing sealing and hose specifications for AEM terpolymers, and thus can be used in applications where diamine cured terpolymers cannot be used.



DuPont Performance Polymers is committed to working with customers throughout the world to develop new products, components and systems that help reduce dependence on fossil fuels and protect people and the environment. With more than 40 manufacturing, development and research centers throughout the world, DuPont Performance Polymers uses the industry's broadest portfolio of plastics, elastomers, renewably sourced polymers, filaments and high-performance parts and shapes to deliver cost-effective solutions to customers in aerospace, automotive, consumer, electrical, electronic, industrial, sporting goods and other diversified industries.



DuPont (NYSE: DD) has been bringing world-class science and engineering to the global marketplace in the form of innovative products, materials, and services since 1802. The company believes that by collaborating with customers, governments, NGOs, and thought leaders we can help find solutions to such global challenges as providing enough healthy food for people everywhere, decreasing dependence on fossil fuels, and protecting life and the environment. For additional information about DuPont and its commitment to inclusive innovation, please visit http://www.dupont.com.



The DuPont Oval Logo, DuPont™ and Vamac® are trademarks or registered trademarks of DuPont or its affiliates.