AEGIS® Bearing Protection Standard on Baldor-Reliance® Food Safe Stainless Steel Motors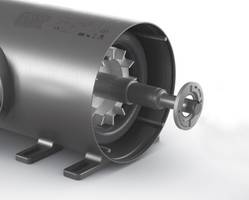 Mechanic Falls, ME -- AEGIS® Shaft Grounding Rings have been made standard equipment on the Baldor-Reliance® Food Safe line of motors. The addition of the internal shaft grounding ring provides increased motor reliability and stops early bearing failure from EDM. The Baldor Food Safe line consists of 25 models with horsepower ratings from ½ HP up to 10 HP. They are ideal for food processing, high pressure washdown, sanitary washdown, outdoor or caustic environment applications. AEGIS® Shaft Grounding Rings have been integrated into these motors to mitigate the effects of bearing currents caused by variable frequency drives (VFDs). When VFDs are used to control AC motors, voltage is induced on the motor shaft. This voltage builds up until it is strong enough to discharge by arcing through the bearings, causing frosting, pitting, fusion craters, and fluting. Over time, this bearing current causes premature bearing failure.
AEGIS® Shaft Grounding Rings protect motors by channeling VFD-induced bearing current safely to ground. Continuous circumferential rows of conductive microfibers, embedded securely in the ring's patented AEGIS® FiberLock channel, completely surround the motor shaft and provide millions of discharge points for harmful shaft voltage. This unique design creates the path of least resistance that effectively diverts current away from the bearings to ground. The microfibers themselves are specially engineered for exceptional conductivity and flexibility to minimize wear and prevent breakage. AEGIS® rings are the only long-term shaft grounding technology proven effective in millions of VFD/motor applications worldwide.
AEGIS® bearing protection is available on motors from most leading manufacturers and can be specified at the time of purchase. Motors can also be retrofitted either in the field or at motor repair shops.
A best practices handbook -- the AEGIS® Bearing Protection Handbook -- describes best practices for protecting motor bearings from electrical damage. It explains how to diagnose electrical bearing damage caused by VFDs and details methods for preventing such damage to motors of various types and voltage and horsepower ratings. Ideal for plant maintenance personnel as well as motor repair companies, the handbook is available for download at est-aegis.com/handbook.
For almost 20 years Electro Static Technology, an ITW company, has produced the patented AEGIS® Shaft Grounding Ring technology used in millions of motors around the world to protect motor bearings from electrical discharge. AEGIS® Shaft Grounding Rings are the leading solution to the problem of VFD-caused electrical bearing damage and premature failure. AEGIS® Rings can be factory-installed by Baldor-Reliance® and many other leading motor manufacturers and can also be installed on in-service motors. A Made in the USA product, the AEGIS® Shaft Grounding Ring is manufactured in Mechanic Falls, ME.
For Immediate Release
Electro Static Technology
31 Winterbrook Road
Mechanic Falls, ME 04256
Contact: Sunshine Spaulding, Marketing Manager
TEL: +1-207-998-1222
www.est-aegis.com
Norris & Company
198 South Meadow Road
Plymouth, MA 02360
Contact: Jim Norris, President
TEL: +1-508-510-5626
E-mail: [email protected]