AdvancedTCA Carrier Board supports 4 AdvancedMC modules.
Press Release Summary: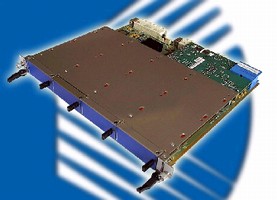 Expanding design options for telecom and network equipment manufacturers, Model AT8400 features PCI-Express and Gigabit Ethernet switching infrastructure and SAS controller. AdvancedMC-Bays can be populated with variety of field-replaceable modules. Suitable for dual-star and full-mesh configurations in 14- and 16-slot systems, board can be managed via SNMP, TELNET, CLI, either in-band or out-of-band via 10/100Base-T Ethernet or RS232.
---
Original Press Release:

Kontron rolls out Highly Anticipated AdvancedTCA Carrier Board for AdvancedMC Modules



The Kontron AT8400 AdvancedTCA carrier board is one of the most powerful and versatile open modular building blocks available on the market today, and dramatically increases the number of design options to telecom and network equipment manufacturers

Eching/Nuremberg (Germany) / Barcelona (Spain) - Feb 13 th, 2006 - Kontron, a market leader in embedded computer technology, today introduced at 3GSM the AT8400, one of the world's first commercially available AdvancedTCA carrier board that supports up to four full-height, hot-swappable AdvancedMC modules. The AdvancedMC-bays can be populated with a wide variety of field-replaceable modules, such as Processor-AMCs, Storage-AMCs and telecom specific I/O-AMCs. With this flexibility, the AT8400 significantly simplifies and expands the design options available to telecom and network equipment manufacturers planning to design systems using open modular communications platforms.

"In today's competitive telecom and datacom market, versatility and upgradeability of systems and services are extremely important to operators and service providers," says Benoit Robert, Kontron Executive Director, Product Development. "For these companies it is vital to react quickly to new market changes, and the AT8400 carrier board for AdvancedMCs delivers the kind versatility never before achieved in carrier-class systems. This is all the more accentuated by the many advantages of AdvancedMC modules being the smallest field replaceable unit which reduces operating expenditures (OpEx) and integrates greater performance and functionality into a smaller footprint."

AT8400 AdvancedTCA Carrier - a look inside
In order to support a wide range of hot-swappable AdvancedMC module configurations, the AT8400 board features an entire PCI-Express and a Gigabit Ethernet switching infrastructure, a SAS controller to support storage AdvancedMCs, as well as a redundant base interface, a dual redundant fabric interface, and a telco clock for each slot.

Fully hot-swappable, the AT8400 is suitable for dual-star and full-mesh configurations in 14- and 16-slot systems, and can be managed via SNMP, TELNET, CLI, either In-band or out-of-band via 10/100Base-T Ethernet or RS232. With full IPMI 1.5 support, the AT8400 also features a dedicated microcontroller as an additional Firmware Update Manager (FWUM) for field upgrades, rollbacks and watchdog functions.

Full array of application possibilities
Telecom and network equipment manufacturers who design various wireless or wireline network elements can now choose from several configurations of Kontron AdvancedTCA and AdvancedMC building blocks, fully integrated into a total open modular solution, such as:

1) 1 x Processor AMC; 1 x Storage AMC; 1 x DSP AMC; and 1 x I/O AMC
Ideal for an IMS-based VoIP Gateway with the OS on the processor and storage AMCs, while DSP AMC to handle transcoding application.

2) 4 x Processor AMCs
Utilized for an assortment of applications that require high processing performance on multiple independent processing nodes on one AdvancedTCA board.

3) 2 x Processor AMCs; 2 x Storage AMCs
To power fully redundant database/storage applications.

4) 1 x Processor AMC; 3 x Storage AMCs (SAS)
For a RAID 5 storage implementation using SAS AMCs
(i.e. to store multimedia content such as streaming video.)

5) 3 x I/O AMCs; 1 x Storage AMC
Driven by a CPU blade, this would be used as a general purpose I/O extension.

For service providers, there are numerous advantages to deploy services on open standard communications solutions using Kontron's AdvancedTCA and AdvancedMC building blocks. Such benefits include improved flexibility and scalability of networks to "swap in - swap out" new and exciting services with no network down time and without the huge expense of forklift upgrades. Likewise, network operators can dramatically reduce operating costs (OpEx) and shrink "real estate" requirements, making it considerably easier to maintain and coordinate inventories for greater economies of scale.

Product Pricing and Availability
Pricing: OEM pricing upon request
Availability: Q2, 06.

About Kontron
A global leader in embedded computer technology and mobile rugged solutions, Kontron supplies a diversified customer base of OEMs, system integrators and application providers in the automation, test and measurement, communications, medical, gaming and entertainment, military, aerospace, public safety, transportation, and energy markets. The company helps its customers to considerably reduce their time-to-market and to gain a competitive advantage with products including high-performance open computer platforms and systems, single board computers, human-machine interfaces and mobile rugged computers. Kontron employs more than 2,300 people worldwide and has manufacturing facilities in Europe, North America, and Asia Pacific. The company is listed on the German TecDAX 30 stock exchange under the symbol "KBC". Kontron is a Premier member in the Intel ® Communications Alliance which means earliest access to leading-edge Intel technologies and privileged engineering support. For additional information on Kontron, please visit kontron-emea.com.

Product management EMEA & ASIA:
Claudia Bestler
Marketing Manager
Kontron - EMEA & ASIA
Kontron Modular Computers GmbH
Sudetenstrasse 7
87600 Kaufbeuren, Germany
Phone: +49 (0) 8341 803 427
claudia.bestler@kontron.com

More from Non-Industrial Products