AdvancedMC Module suits LTE network security applications.
Press Release Summary: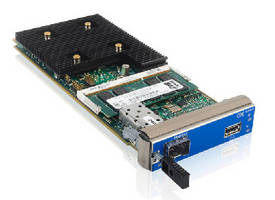 Combining Cavium 10-core OCTEON II cn6645 series packet processor and Cavium TurboDPI software, Model AM4211 provides out-of-the-box DPI card for system developers who require 10 GbE wire-speed performance of various deep packet inspection functions. Module features 1-8 GB DDR3 memory support with ECC, 1 SFP+ cage to support multi-rate fiber SFP+ modules, and HIROSE for RS232 access to processor. Ports 4-7 are configurable as PCIe x4 or SRIO, while ports 8-11 support PCIe x4, XAUI, or 4x SGMII.
---
Original Press Release:

Kontron 10-Core Out-of-the-Box DPI AdvancedMC Module Designed for High Bandwidth LTE Network Security Applications



Kontron AM4211 features Cavium OCTEON II packet processor, TurboDPI software and 10GbE performance

Montreal, Canada, - Kontron today announced that the second generation of the Kontron AMC Packet Processor module AM4211 for MicroTCA platforms is now available with the Cavium (NASDAQ: CAVM) 10-core OCTEON II cn6645 series. For telecom equipment manufacturers (TEMs), this AMC module represents a 40 percent increase in performance for any new designs of security and Deep Packet Inspection (DPI), network applications for SNOW 3G and KASUMI, TCP/IP packet processing acceleration and QoS that are integrated into eNodeB base stations and other types of network security and test and measurement applications for LTE networks.

The combination of Cavium hardware acceleration engines and production-ready Cavium TurboDPI software ensures that the Kontron AM4211 is available as an "out-of-the-box" DPI card for application system developers who require 10GbE wire-speed performance of various deep packet inspection (DPI) functions. This includes five main DPI categories: protocol analysis/application recognition; anti-malware/anti-virus; application performance management; network intrusion detection and prevention (IDS/IPS); and URL filtering.

In addition to MicroTCA platform design considerations, the Kontron AMC Packet Processor module AM4211 can also be used in combination with full-scale AdvancedTCA blades as a co-processor network interface controller (NIC) card, scalable with 14-slot AdvancedTCA platforms, such as the Kontron Open Modular Core Platform OM9141-10G.

"Demand for network security & DPI across carrier and data center infrastructure is strong," said Marc Leclaire, AMC, MicroTCA, ATCA Switch product manager at Kontron. "We have worked in close collaboration with Cavium to be the first to give OEM and TEM security equipment clients the right DPI hardware and software tools on commercial-off-the-shelf hardware platforms. This ensures they can streamline their system-level designs to offer market-leading performance with the lowest cost of ownership."

"The move to cloud-based SaaS services and increasing smart phone data traffic are putting tremendous pressure on network equipment vendors to integrate more sophisticated security and deep-packet-inspection features into their network applications," said YJ Kim, General Manager, Infrastructure Processor Group at Cavium. "Integration of our market-leading, high-performance, 10-core OCTEON II processor, our production-ready TurboDPI software and very flexible I/O options onto a single Kontron AMC module makes for a very compelling, complete, fast-to-market security and DPI solution that can easily scale in performance, cost, and power requirements."

Board-Level Technical Specifications

Front Access: 1 SFP+ cage to support multi-rate fiber SFP+ modules; HIROSE for RS232 access to processor;

AMC Ports: Port 4-7 as PCIe x4 or SRIO and port 8-11 as PCIe x4, XAUI or 4x SGMII.; the SRIO interface ensures interoperability with 3rd party Digital Signal Processing (DSP) AMCs;

Memory: 1 to 8 Gigabyte DDR3 Memory support with ECC.

Cavium Processor Technical Specifications

10-Core Cavium OCTEON II CN6645 CNMIPS64 v2 processor;

I/O packet processors and hardware application acceleration managers, including: L2-L7 application and security acceleration engines, TCP offload, load balancing, compression and support for virtualization;

Power Optimizer that dynamically adjusts power in real time depending upon the application-level processing requirement, without the need to adjust CPU voltage or clock frequency, enabling developers to specify the maximum power that a program is allowed to consume on a per core basis;

Third-generation pattern search capability with new Hyper Finite Automata (HFA) engines.

The Kontron AMC Packet Processor module AM4211 is available now.
For more information and to inquire about the Kontron AM4211 Software Development Kit and additional optional software modules such as an IPv4/IPv6 stack, IPSec, QoS management, multicast forwarding, IP filtering, VLAN, L2 tunneling and application programming frameworks, please visit:
http://www.kontron.com/products/boards+and+mezzanines/advancedmc/io/am4211.html

About Kontron

Kontron is a global leader in embedded computing technology. With more than 30% of its employees in Research and Development, Kontron creates many of the standards that drive the world's embedded computing platforms. Kontron's product longevity, local engineering and support, and value-added services, helps create a sustainable and viable embedded solution for OEMs and system integrators. Kontron works closely with its customers on their embedded application-ready platforms and custom solutions, enabling them to focus on their core competencies. The result is an accelerated time-to-market, reduced total-cost-of-ownership and an improved overall application with leading-edge, highly-reliable embedded technology.

Kontron is listed on the German TecDAX stock exchange under the symbol "KBC". For more information, please visit: www.kontron.com/

Kontron is a trademark or registered trademark of Kontron AG.

PICMG®, AdvancedMC(TM) and MicroTCA(TM) are trademarks of the PCI Industrial Computers Manufacturers Group.

All other brand or product names are trademarks or registered trademarks or copyrights by their respective owners and are recognized.

All data is for information purposes only and not guaranteed for legal purposes. Subject to change without notice. Information in this press release has been carefully checked and is believed to be accurate; however, no responsibility is assumed for inaccuracies.

More from Controls & Controllers