Advanced Equipment from Haimer USA Helps York Technical College Students Learn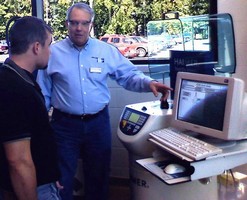 ROCK HILL, S.C. - The Institute for Manufacturing Productivity at York Technical College, in its effort to stay on the cutting edge of production technology, turns to equipment from Haimer USA, which in turn gives students - and those already working in the manufacturing industry who receive training at York - exposure to processes that can make them and their employers more successful.

York acquired a Haimer tool balancing machine and a Haimer shrink-fit system in 2006 and since then, "We use them internally for our machining instruction and to expose folks from local industry to the concepts," says Tom Dickerson, York Tech's Machine Tool Technology Department Manager.

In addition to those uses, Dickerson added other rationale for acquiring the advanced Haimer equipment. "We wanted to try to get ahead of local industry to try to show them the way to do things a little bit better," he said.

The Haimer-York Tech association began with a chance meeting between Dickerson and local Haimer sales representative Tom Marron, which led to a demonstration of the equipment. "That's when I said I have to have it," Dickerson recalls. "When I saw it I was sold."

The balancing machine, Haimer's TD2002, is accurate and easy to use. Accuracy comes from centrifugal force sensors, hard bearing technology, a clamping spindle adapter and its solid calibration process. The ease of use comes from its simple process: after the imbalance is measured, software calculates where to add, remove or displace weight on the tool holder to assure that the tool will be balanced quickly and easily so that it runs smoothly. This allows the machine tool an opportunity to achieve its full potential - increasing machining capacity.

Haimer's shrink-fit systems use high frequency and high power to quickly heat the tool holder for quick tool removal and insertion. With Haimer's intelligent coil, the system adapts to the chuck, distributes heat more evenly and only heats the clamping area of the holder, which decreases the time it takes to cool down and is gentler on the tool.

Once inserted into their holders and balanced, York Tech's tools are mounted on one of between six and 15 new Okuma machine tools it uses in its instruction. The Okuma machines come via a partnership forged between York Technical College and Okuma seven years ago. The school also has partnership agreements with tool-maker Sandvik as well as other companies. York Technical College also provides Okuma machine users with operator/programmer training as well as electrical and mechanical maintenance training.

"Some of the training is on spindle replacement," Dickinson explains, "so while they're here, we give them 15 or 20 minutes showing them how to prevent having to replace spindles by balancing their tools."

Brendt Holden, President of Haimer USA, says, "York Technical College is offering a unique service to both its students and the service and applications engineers who take the Okuma training. Tool balancing is a big part of preventive maintenance and we're happy to be part of it."

Moreover, Holden says, "We feel it's important to assist in providing the latest technology to colleges to help educate the future employees in our industry. With the present and future of our industry being so dedicated to lean manufacturing, the ability to be able to fully explain preventive maintenance is critical."

York Technical College's Institute for Manufacturing Productivity opened in October 2002 and has served more than 2,000 industry students from all over the world. The institute represents a joint effort on the part of several companies to provide a competitive advantage for their customers by delivering quality education and training opportunities. Within its 20,000-square-foot facility, instructors from the college, along with adjunct instructors from partner companies, train manufacturing personnel in the use of state-of-the-art machining centers and other high-tech manufacturing machinery. Also, the institute assists local industry in identifying in-house manufacturing, process and operational improvements.

Haimer USA is the exclusive North American importer of the full line of products from Munich, Germany-based Haimer GmbH. Those products include set-screw end-mill holders, face mill arbors, ER collet chucks, high-precision collets and shrink-fit chucks in the most extensive taper and size offerings. Haimer also offers the latest technology in shrink fit systems, balancing machines and three-dimensional edge finding sensor systems. In addition to importing Haimer products, Haimer USA is responsible for distribution, sales and service throughout North America. For more information, go to www.haimer-usa.com.

Tom Dickerson teaches students at York Technical College how to use a Haimer Shrink-Fit system.

Tom Dickerson teaches students at York Technical College about the benefits of using a Haimer tool balancing machine.

More from Electrical Equipment & Systems