Advanced Ball Lok Chuck enhances performance via composite core.
Press Release Summary: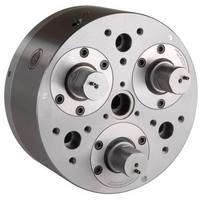 For secure and accurate workholding, N.A. Woodworth ABL features Quick-Lock jaw mounting system along with non-metallic composite core. Chucks are available as 3-jaw, self-centering, or compensating systems in sizes from 6-18 in. dia. Various machine mounting styles, plates, and adapters are offered to match major machine structures and designs. While quick-change jaw design allows changeovers in less than 60 sec, Quick-Lock, no loose screw, style mount eliminates need for master jaw sets.
---
Original Press Release:

Forkardt Introduces New Composite Core Advanced Ball-Lok (ABL) Chuck



Forkardt has unveiled the latest workholding and chuck technology among its long list of industry-driven developments with the newest version of the firm's original UBL (universal ball lock) concept chuck. Meeting today's productivity, quality and ergonomic demands, the N.A. Woodworth ABL features a "Quick-Lock" jaw mounting system along with a weight-reducing, non-metallic composite core that provides high strength with the advantages of low mass operation. Together, the weight reduction and Q-C jaw system deliver secure, accurate workholding performance. These new, lightweight and quick jaw change chucks are available as three jaw, self-centering, or compensating systems and in sizes ranging from 160mm to 460mm (6" to 18") diameters. A variety of machine mounting styles, plates and adapters are also offered to match virtually all major machine structures and designs.

First, the quick-change jaw design allows changeovers to be accomplished in under 60 seconds, ideal for low-volume, part-to-part runs and the frequent changeover requirements of job shop environments. The "Quick-Lock", no loose screw, style mount eliminates the need for master jaw sets, helping to minimize investment costs, tooling inventories and weight, yet is configured to provide high levels of precision, set-up ease, and excellent repeatability.

Second, the low weight composite core construction-establishing an approximate 40% weight reduction when compared to like capacity, conventional chucks-provides benefits in five distinct areas, including reduced power consumption for lower utility costs
and "green" operations. Because of the chuck's diminished mass, spindle life will typically improve as machine components are exposed to minimized wear and tear-also resulting in reduced costs for maintenance, repairs and replacement parts.

This new concept in workholding design offers a unique benefit to the end user. The reduction in mass allows the operator to ramp up to speed much quicker than with conventional pull down chucks. This same benefit also holds true when ramping down after cutting is complete. These two benefits provide true savings in production environments.

The new chuck permits operation on lower horsepower machines, expanding the working capacity and range of the machines, yet keeping capital investment and energy costs to lower budgeted levels.

Lastly, the N.A. Woodworth ABL composite-core body provides a dampening effect while machining. The core absorbs vibration during turning, which results in better part finishes. Depending on the part tolerances, this benefit may eliminate unnecessary grinding.

The quick-change jaw mounting design, with fewer parts, also contributes to lower weights, and the low mass reduces centrifugal forces to help prevent jaw slippage, machining errors and increased spindle speeds. The new chucks are completely sealed to prevent internal contamination while an innovative design provides improved chip evacuation, allowing for more reliable and accurate workpiece positioning.

The Forkardt Group, which is a division of ITW Workholding, headquartered in Traverse City, MI, consists of N.A. Woodworth, Buck Chuck, and Forkardt. Utilizing its worldwide research and development resources, the group is one of the world's premier builders of workholding technologies for standard applications, for high-precision applications, and for specialized, engineered solutions. The member companies and their innovations in workholding and chucks have resolved some of the world's most demanding workholding requirements and have provided productivity, precision and quality output support to a variety of industries the world over.

For additional information regarding Forkardt and its products, visit www.forkardt.us

More from Communication Systems & Equipment