ADuCM4050 Microcontroller Unit uses SensorStrobe technology.
Press Release Summary: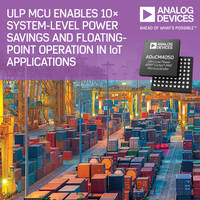 Suitable for clinical vital-signs monitoring, smart energy management, and asset health equipment reporting applications, ADuCM4050 Microcontroller Unit is designed with ARM® Cortex®-M4 core, expanded SRAM and embedded flash memory. Using SensorStrobe™ technology, unit can support multiple digital- and analog-sensor inputs. Featuring 128kB SRAM and 512kB flash memory, controller consumes 40μA/MHz and 680nA power in active and hibernate modes respectively.
---
Original Press Release:
Ultra Low Power MCU Enables 10 Times System-Level Power Savings and Floating-Point Operation in IoT Applications
Analog Devices, Inc. today announced an ultra low power microcontroller unit (MCU) that addresses the rapidly growing need for embedding advanced algorithms while consuming the lowest system power at Internet of Things (IoT) edge nodes. The ADuCM4050 MCU includes an ARM® Cortex®-M4 core with floating-point unit, expanded SRAM, and embedded flash memory in order to allow localized decision making and ensuring that only the most important data is sent to the cloud. The new MCU uses SensorStrobe™ technology allowing it to remain in a low power state while Analog Devices' sensors and RF technology are still collecting data. This enables the ADuCM4050 MCU to deliver over 10 times system-level power savings that result in extended battery life or longer time between battery charges. Key feature enhancements have been added for operation in harsh environments.
View product page, download data sheet, order samples and evaluation boards: http://www.analog.com/ADuCM4050
Learn about ADI's ultra low power microcontrollers product portfolio: http://www.analog.com/ultra-low-power-microcontrollers
Security is also enhanced with the ADuCM4050, due to its encryption which provides stronger IP protection for the designer and better protection against malware and misuse. Among these are AES 128/256, SHA 256, block ciphers for code protection, key wrap, and HMAC. The new ultra low power MCU complements Analog Devices' already existing class-leading ADuCM302x series of parts and offers pin compatibility.
The ADuCM4050 MCU targets applications where long battery life is critical, but where security, performance integrity, and the ability to pre-process and filter sensor data to eliminate artifacts and noise are also requirements. Applications include clinical vital-signs monitoring, smart energy management, and asset health/factory equipment reporting.
The ADuCM4050 supports multiple digital- and analog-sensor inputs via its SensorStrobe technology so they can be combined to analyze their data for smarter, more sophisticated functionality. Therefore, there is no need to wake up the microcontroller frequently to report routine or partial data, thus saving significant power over the long term.
The extremely low power requirements of the ADuCM4050 are seen in its 40μA/MHz active-mode consumption, which drops to 680nA in hibernate mode. The large amount of SRAM and flash memory – 128kB and 512kB, respectively – and the ability to retain almost all of the SRAM, enables it to get data ready quicker when it wakes up from hibernate (sleep) mode, another major power-saving feature.
The ADuCM4050 seamlessly works with the industry leading, ultralow-power, low-g ADXL362 and the newly announced ADXL372 micropower high-g MEMS accelerometer as part of Analog Devices' portfolio of ultra low power technology. SensorStrobe technology also works seamlessly with these sensors to unlock additional system-level power savings.
Pricing and Availability
      Product                         Sample Availability                Full Production            Price Each per 1,000          Packaging
    ADuCM4050                             Now                              December                          $4.29                  64-pin LFCSP 72-ball WLCSP
About Analog Devices
Analog Devices is the leading global high-performance analog technology company dedicated to solving the toughest engineering challenges. We enable our customers to interpret the world around us by intelligently bridging the physical and digital with unmatched technologies that sense, measure, power, connect and interpret. Visit http://www.analog.com.
Contact:
Linda Kincaid
Analog Devices, Inc.
Corporate Communications Department,
Three Technology Way,
Norwood, MA 02062
More from Computer Hardware & Peripherals