ADSL/ADSL2+ Tester features single pushbutton operation.
Press Release Summary: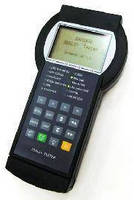 Accommodating in-field requirements, handheld model A0010006 can be used during ADSL, ADSL2, ADSL2+, and RE-ADSL installation, maintenance, and measurement. Test functions include upstream (1.2 Mbps) and downstream (24 Mbps) rate measurement, error count, modem simulation, and PING/Trace testing. Instrument also delivers DMM functionality to test subscriber telephone connectivity and line parameters. Test results and line parameter measurement can be obtained with one push of Auto Test key.
---
Original Press Release:

Multi-Function ADSL/ADSL2+ Tester with Auto Test Function



Toronto, Canada - GAO Comm (www.GAOComm.com) is offering its multi-function ADSL/ADSL2+ tester designed for ADSL, ADSL2, ADSL2+, and RE-ADSL installation, maintenance and measurement. Given its compact, handheld design and easy-to-use interface, this ADSL/ADSL2+ tester is an excellent tool for technician's field work. It is commonly used as a digital multi-meter to test subscriber telephone connectivity and line parameters.

This compact ADSL/ADSL2+ tester, model A0010006, provides multiple test functions including upstream and downstream rate measurements, error counts, modem simulation, and PING and Trace testing. It also delivers digital multi-meter (DMM) functionality to test subscriber telephone connectivity and line parameters. By simply plugging the ADSL / ADSL2+ connections into the tester, test results and line parameter measurement are obtained with one push of the "Auto Test" key. Test results can be uploaded, saved and printed through the included software which is upgradeable via an integrated RS-232 interface.

This high-performance tester features auto-off function, voice and LED status indicators and histogram analysis. It has a 24 Mb/s downstream rate and an upstream rate of 1.2 Mb/s. It complies with ADSL, ITU G.992.3, ITU G.992.4, ADSL2+ and ITU G.992 Annex A, B, C, Annex L and Annex M line standards. The tester determines the type of an ADSL line being tested and automatically matches it to the ADSL line standard and then carries out tests accordingly. This portable tester has a maximum transmission distance of 6.5 km. In addition, the embedded chipset is upgradeable via Ethernet interface for future ADSL standards.

This multi-function ADSL/ADSL2+ tester belongs to GAO's family of ADSL Testers. This line includes a wide variety of testers. A featured product in this line is Portable ADSL2+ Tester which provides such test functions as upstream and downstream rate measurements, error counts, modem simulation, PING and Trace testing. This line also includes other similar ADSL testers such as Operate Portable ADSL/ADSL2+ Tester, Portable xDSL Tester and Pocket Size Handheld ADSL2+ Tester. This line of testers is ideal for ADSL/ADSL2+ network installation and maintenance.

For sales inquiries please contact:

1-877 585-9555 ext. 601 - Toll Free (USA & Canada)

1-416 292-0038 ext. 601 - All Other Areas

sales@gaocomm.com

More from Packaging Products & Equipment