Adjustable Wrenches are corrosion resistant for use in critical areas.
Press Release Summary: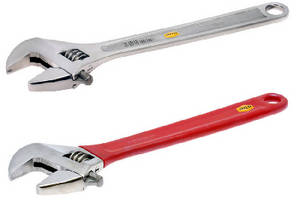 Made of 400 series stainless steel, Adjustable Wrenches come in 6, 8, 10, and 12 in. sizes, with or without PVC grips. Units lock into position when user applies pressure, assuring knurls will not loosen and jaws will not slip. Hardened steel can be autoclaved and tolerates caustic cleaning solutions. Minimizing ferrous contamination risk, tools are suitable for maintenance in health care, food processing, pharmaceutical labs, marine applications, and chemical production.
---
Original Press Release:

Aven Stainless Steel Adjustable Wrenches Are Best-Practice Choice for Critical Areas



ANN ARBOR, MI - Four sizes of corrosion-resistant adjustable wrenches expand the selection of maintenance tools that Aven, Inc. supplies for industrial, scientific and health care users.

The newly added 400 series stainless steel models, available with or without PVC grips, are the first adjustable choices from the Michigan-based firm. Sizes are 6 inches (150 mm), 8 inches (200 mm), 10 inches (250 mm) and 12 inches (300 mm).

Aven Adjustable Wrenches lock into position when the user applies pressure, assuring the knurls (thumbscrews) won't loosen and the jaws won't slip. The hardened steel can be autoclaved and tolerates caustic cleaning solutions.

Stainless steel tools reduce ferrous contamination risk and are suitable for machinery maintenance in health care, food processing, biotechnology and other life sciences, electronics manufacturing, pharmaceutical labs or plants, marine applications, aerospace facilities and chemical production. Using materials-compatible tools is an essential element of good manufacturing practice in sensitive environments.

"An ordinary carbon steel wrench could compromise aseptic conditions on stainless steel equipment in critical areas," explains Mike Shahpurwala, president of Aven. ""Like our dozens of other stainless hand tools, these are designed for settings where it's essential to avoid rust, chrome particles and other contamination."

For more information, call Aven at (734) 973-0099. A digital catalog is at www.aventools.com.

Aven, Inc. manufactures and distributes high-performance precision tools and optical systems for industrial, scientific, research and education applications. More than 800 products include video inspection systems, integrated portable microscopes, video borescopes, task lights, stainless steel tools for lab use and precision hand tools such as tweezers, pliers, cutters, screwdrivers, crimpers, knives and alignment tools. Brands include Mighty Scope, iLoupe, iVue, Athlet, Technik and Accu-Tek.

Related