Adjustable Rope Stop adds grip, spacer, or knot.
Press Release Summary: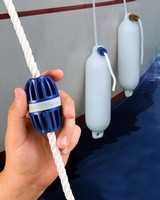 SlipKnot(TM) is molded from weather-resistant nylon for use with braided or stranded lines to create secure, adjustable knot. Featuring ribbed construction for sure grip, egg-shaped device fits in palm of hand. Feed line through SlipKnot(TM), and, by holding one side and twisting the other, internal mechanism grips line with up to 200 lb holding power, depending upon rope construction. Available in blue, orange, and yellow, it comes in 3 sizes for 3/8, 7/16 and ½ in. rope.
---
Original Press Release:
Adjustable Rope Stop Adds Grip, Spacer or Knot Instantly
A new (patent pending) adjustable stop for rope that creates a knot, using a simple twist motion, for gripping line and adding a spacer or locator, to free up a cleat, and for hanging fenders and other tasks is being introduced by Stafford Manufacturing Corp. of Wilmington, Massachusetts. Stafford's SlipKnot(TM) is molded from weather-resistant nylon in three sizes for use with braided or stranded lines to create a secure, but adjustable knot where you want it. Featuring ribbed construction for a sure grip, this clever egg-shaped device fits the palm of your hand and is easy to use. Simply feed a line through Stafford's SlipKnot(TM) and by holding one side and twisting the other, an internal mechanism grips the line with up to 200 lbs. holding power, depending upon rope construction. Available in blue, orange and yellow colors, it comes in three sizes for 3/8", 7/16" and ½" rope. Stafford's SlipKnot(TM) is available in a 3-pack of one size or an assortment of three sizes for $24.95 (sugg. retail) in a see-through display package. Distributor and dealer inquiries are invited. For more information contact: Stafford Manufacturing Corporation Jim Swiezynski, Technical Director P.O. Box 277 North Reading, MA 01864-0277 (800) 695-5551 FAX (978) 657-4731 e-mail: jswiezynski@staffordmfg.com www.staffordslipknot.com
More from Communication Systems & Equipment