Adjustable Reel Stand features space-minimizing design.
Press Release Summary: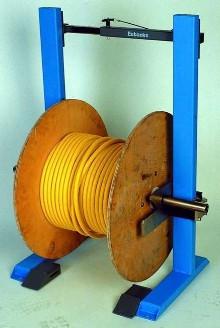 Model 6835 does not require any lifting in order to load reels onto unit; reels up to 32 in. in diameter and 22 in. wide are rolled into place. Able to hold up to 300 lb reels, compact stand dereels tangentially to avoid line twist and may be moved around plant. Width is adjustable to fit width of reel, minimizing footprint and conserving floor space.
---
Original Press Release:

Eubanks Introduces New Low-Cost Reel Stand


ONTARIO, Calif. -- Eubanks Engineering Co. announces the introduction of a new low-cost Reel Stand, Model 6835, that will hold large reels up to 300 lbs. (140kg) in weight and up to 32 in. (810 mm) in diameter. No lifting is required to load this stand, the reels can just be rolled into place. It's compact and easy to move around your plant.

"The width of Model 6835 is adjustable to fit the width of the reel," states company President David Eubanks, "which minimizes the footprint and conserves valuable floor space. And the reel is dereeled tangentially so that there is no line twist, which often occurs in axial dereeling."

"If you have to move heavy reels of wire or cable, there's nothing close to Model 6835 that is in its price range, is compact, and so easy to move around your factory."

Maximum reel diameter for the Model 6835 is 32 in. (810 mm), maximum reel width is 22 in. (560 mm) and the maximum reel weight is 300 lbs. (140 kg). Shipping weight is 100 lbs (45kg).

Eubanks Engineering Co. has been an innovator in design and manufacturing for more than 40 years. The company offers a comprehensive line of wire processing equipment for cutting, stripping, and marking wire and cables worldwide. Its programmable electric and pneumatic wire strippers allow users maximum flexibility in setting wire length, strip length and wire size.

For further information on the new Model 6835 Reel Stand, contact
Eubanks Engineering Co., 3022 Inland Empire Blvd., Ontario, CA 91764, 909-483-2456, or at [email protected], or at: www.eubanks.com