Adjustable Level Machine reduces excessive reaching/bending.
Press Release Summary: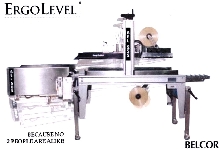 Available with pads or casters, BEL Ergolevel ergonomically adjustable machine creates height-flexible packaging equipment. Height adjustable legs allow users to adapt to various operator heights and case heights. Case hold down system holds empty cases in place, allowing for hands-free packing. Adjustment levelers independently control front and back of machine and afford height flexibility of 9 in. at either end.
---
Original Press Release:
Belcor Industries Inc. Announces the Ergolevel Feature

Ergonomically adjustable machines creating height-flexible, user-friendly packaging equipment.

This year, BELCOR Industries added its newest innovation to their line of Pack & Seal Systems - the BEL ErgoLevel. BELCOR Industries historically has incorporated state of the art "ergonomics" in their machines, long before operator safety gained mainstream awareness. BELCOR's ErgoLevel feature further enhances operator safety on machines like the BEL 505/252 Case Erector & Pack Station by adding special height adjustable legs, not currently offered elsewhere in the marketplace. The ErgoLevel is a hit with Packagers looking to save labor dollars through increased output and reduce time lost due to repetitive strain injuries.

Bob Cannon, Vice President Sales & Marketing of Belcor Industries said the popularity of the BEL ErgoLevel demonstrates increased awareness in ergonomic safety: "Belcor's ErgoLevel is a first in the industry, meeting an increasing demand of businesses to improve ergonomics and improve productivity. Its development means customers are able to adapt to various operator heights and case heights, providing a versatile and cost-effective packaging line solution."

Since the first ErgoLevels have been produced, the majority of inquiries for BEL machinery in 2002 have involved the ErgoLevel feature. ErgoLevel retrofits are being made available for customers who want to further enhance existing BEL machinery.

The height of the ErgoLevel equipped machine can be easily adjusted to the height of the operator. As a result, the operator remains close to the box during erecting and packing, thereby avoiding excessive reaching or bending. The improved ergonomics increase efficiency, and reduce operator strain and fatigue. The case hold down system is designed to hold empty cases in place, allowing for "hands free" packing.

The ErgoLevel Pack System is specifically designed with easy adjustment levelers independently controlling the front and back of the machine and affording height flexibility of approximately 9 inches at either end. The ErgoLevel is a helpful addition to any limited space packing line, offering important benefits in safety and production efficiency.

The BEL machines equipped with ErgoLevel will be available in North America through BELCOR's extensive distributor network. Case packing line engineers can work with BELCOR's Sales department to create customized lines for all types of packing needs such as; bag inserting, case erecting & packing, glue sealing, roller conveying and case check-weighing. Obtain brochures or additional information regarding the BEL line of equipment by calling: (604) 270-0811. Please feel free to contact us directly or view our website at www.belcor.com.

Contacts:

Bob Cannon

Vice President, Sales & Marketing

Email: bob@belcor.com

Leanne Adams

Manager Inside Sales & Marketing Services

Email: leanne@belcor.com

BELCOR Industries Inc. - A Pro Mach Operating Partner
More from Material Handling & Storage