Adjustable Holding Force ID Grippers have 8-85 mm dia range.
Press Release Summary: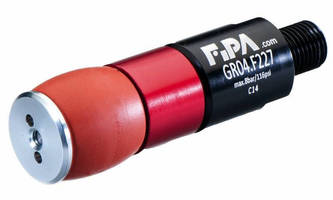 Color-coded to correspond with clamping positions for pushed and drawn parts, ID grippers offer alternative to suction cups and sprue grippers for workpieces with holes or recesses. Elastomer bellows, respectively rated to withstand temperatures up to 266 and 392°F, are made of EPDM or FDA-approved silicone. Made of anodized aluminum, these single-acting, pneumatically operated expansion grippers do not leave any marks on workpieces and are expanded by pneumatically driven pistons.
---
Original Press Release:

FIPA Releases a Robust New Series of ID Grippers with Adjustable Holding Force & an 8-85mm Diameter Range



Providing an effective alternative to suction cups & sprue grippers for workpieces with holes or recesses, the new grippers gently handle a wide variety of parts without leaving any marks & are available with FDA approved bellows for direct contact with food



CARY, N.C. — FIPA Inc., a leading manufacturer of advanced vacuum technology, gripper systems, air nippers, tube lifters, and End-of-Arm-Tooling (EOAT), has introduced a robust new series of ID grippers with an 8–85mm diameter range and high holding force that can be adjusted to individual workpieces via feed pressure. Color-coded to correspond with clamping positions for pushed and drawn parts and featuring strong elastomer bellows made of EPDM or silicone, the latter of which is FDA approved for direct contact with food, the new single-acting, pneumatically operated expansion grippers gently grip the inner contours of workpieces without leaving any marks, providing an effective alternative to suction cups and sprue grippers for parts with holes or recesses.



"Expanded by pneumatically driven pistons rather than inflation to avoid all risk of bursting, the bellows in our new color-coded ID grippers gently clamp workpieces at their inner surface, retain them with the appropriate amount of adjustable holding force, and release them without leaving any marks," said Rainer Mehrer, president of FIPA. "Additionally, as a result of the recent overhaul of our entire ID gripper product line in combination with our extensive offering of FIPA mounting elements and accessories, these and other FIPA grippers can now be used regardless of the position of the products to be handled, which both reduces BOM costs and enhances the value we provide to our customers."



Made of high-strength, anodized aluminum and service-friendly EPDM or silicone bellows that are capable of withstanding temperatures up to 130°C (266°F) and 200°C (392°F), respectively, and can be easily replaced in a non-destructive manner if necessary, the 11 new grippers in the series accommodate a variety of workpieces with inner diameters ranging from 8–85mm and weigh between 0.88 and 37.047oz (25 and 1,051g) apiece. Optimal feed pressure for the series is 8 bar.



To further facilitate integration into gripper systems, the series is also available with a wide range of matching fittings, screw connections, and other accessories, including several sizes of mounting brackets for variable angle installation and four different extension tubes with compressed air connections.



For more information about FIPA's robust new ID grippers with an 8–85mm diameter range and adjustable high holding force, please visit http://www.fipa.com/en_US/products/2358856-expansion-grippers-diameter-8-85-mm to download the product datasheet. For all other inquiries, please visit http://www.fipa.com, call 919-651-9888, or write to 1855 Evans Road, Cary, NC 27513.



About FIPA, Inc.

Founded in 2006 as a fully owned subsidiary of FIPA GmbH, FIPA Inc. is an international innovator and manufacturer of advanced vacuum technology, gripper systems, air nippers, tube lifters, and End-of-Arm-Tooling (EOAT) for automated assembly equipment and material handling systems. Spanning components to complete systems, FIPA's products are broadly employed in applications ranging from packaging, automotive assembly, and manufacturing automation equipment to material handling systems designed to move plastics, metals, glass, wood products, and, for printing equipment, paper and films. FIPA also delivers flexible, dynamic solutions on short lead times, and provides superior service and technical support.



Founded in 1985 and headquartered in Ismaning, Germany, FIPA GmbH has steadily expanded its global presence in recent years, adding representations in the United States, Thailand, Poland, Hungary, and Turkey. For more information about FIPA's products, services, and news, please visit http://www.fipa.com.



For more information, please contact:

Jennifer Gerdhenrichs

Manager

International Marketing Communication

FIPA Group

0049-89-962-4890

jgerdhenrichs@fipa.com



Christine Stieglitz

PR Executive

BtB Marketing Communications

919-872-8172

christine.stieglitz@btbmarketing.com

More from Electrical Equipment & Systems