Adhesives for Your Specific Needs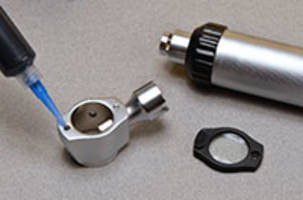 EP30Med: Low Viscosity Epoxy Meets USP Class VI Specifications
Ideal for encapsulation, bonding and sealing applications, EP30Med offers excellent electrical insulation properties and exceptionally low shrinkage upon cure. It is a two component, room temperature curing biocompatible epoxy adhesive designed for high performance medical device applications. It features high bond strength, superior durability, outstanding resistance to cold sterilants, EtO and gamma radiation. This system withstands 1,000 hours 85°C/85% RH exposure. It also meets FDA requirements for indirect food contact as per FDA CFR 175.105.
For more information, request a data sheet on EP30Med: http://click.skem1.com/click/gi5wq-awa0mk-13moljv5/
MB600G: No Mix, Electrically Conductive, High Temperature Resistant Coating System
Ideal for electromagnetic interference (EMI) and radio frequency interference (RFI) shielding applications, MB600G is an aqueous based, sodium silicate system with a graphite filler. Electrically conductive, graphite filled materials are widely used for shielding and static dissipation applications because of their balance of shielding effectiveness and cost effectiveness. MB600G is serviceable over the remarkably wide temperature range of 0°F to +700°F [-18°C to +371°C].
For more information, request a data sheet on MB600G: http://click.skem1.com/click/gi5wq-awa0mm-13moljv7/
EP30QF: Quartz Filled Epoxy Features NASA Low Outgassing Approval
EP30QF is a quartz filled, two component epoxy for high performance bonding, sealing, coating and casting applications that meets NASA low outgassing specifications. It is formulated to produce high strength, rigid bonds which are remarkably resistant to chemicals including water, oil and most organic solvents. EP30QF's linear shrinkage after cure is exceptionally low. It is especially recommended where high tensile modulus, outstanding compressive strength and superior dimensional stability are required. This product also has superior flow properties and a low coefficient of thermal expansion.
For more information, request a data sheet on EP30QF: http://click.skem1.com/click/gi5wq-awa0mo-13moljv9/
UV22DC80-1: Nanosilica Filled, Dual Cure System
UV22DC80-1 is formulated to cure readily upon exposure to UV light and it will crosslink in shadowed out areas with the addition of heat. This abrasion resistant system features superior dimensional stability and has very low shrinkage upon cure. Optically clear UV22DC80-1 passes NASA low outgassing tests. It is serviceable from -60°F to +350°F [-51°C to +177°C] and has a Tg exceeding 125°C.
For more information, request a data sheet on UV22DC80-1: http://click.skem1.com/click/gi5wq-awa0mq-13moljv1/
Supreme 46HT-2ND2: Non-Drip, Toughened, Heat Resistant Epoxy
Featuring an attractive balance of superior shear and peel strength, Supreme 46HT-2ND2 is a two component, non-drip epoxy for structural bonding. It is suitable for applications where long-term exposure to temperatures from -100°F to +500°F [-73°C to +260°C] is required. This toughened system produces durable bonds which are resistant to thermal cycling as well as a wide variety of chemicals.
For more information, request a data sheet on Supreme 46HT-2ND2
MasterSil 711: Ultra Fast Curing, High Temperature Resistant Silicone: http://click.skem1.com/click/gi5wq-awa0ms-13moljv3/
One component MasterSil 711 is a room temperature, non-corrosive curing silicone compound for bonding, sealing, coating and formed-in-place gaskets. It offers superior shock/impact resistance and is ideally suited for sealing delicate electronic components. Flexible bonds are formed when exposed to atmospheric moisture. MasterSil 711 requires no mixing or heat, and sets within 2-3 minutes.
For more information, request a technical data sheet on MasterSil 711: http://click.skem1.com/click/gi5wq-awa0mu-13moljv5/
Master Bond
Email:newsletters@masterbond.com
Phone:+1 201 343 8983
More from Adhesives & Sealants