Adhesive Labels are suited for assembly line products.
Press Release Summary: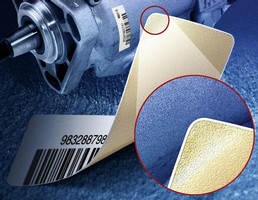 ProTech BleedStop labels adhere to rough product surfaces during manufacturing process without smearing adhesive on assembly line rollers. To prevent bleeding, area coated with adhesive is slightly smaller than label itself but large enough to ensure reliable adhesion. Product supports smooth processing of labels and nameplates with thick adhesive coatings, while eliminating need for other methods used to prevent adhesive bleeding.
---
Original Press Release:

Schreiner Label Tech Introduces Adhesive Labels for Assembly Line Products



BleedStop Label: The clean solution against adhesive bleeding

SOUTHFIELD, MI - July 12, 2006 - Schreiner Label Tech today announced the introduction of their ProTech BleedStop label, a new type of adhesive label designed to adhere to rough product surfaces during the manufacturing process without smearing adhesive on assembly line rollers.

Reliable adhesion of film labels to rough surfaces requires a thick adhesive coating. During the label dispensing process however, this can be a problem. The strong, "high-flow" adhesive tends to bleed from the edges of labels. As a result, the adhesive sticks to the guide rollers of the dispensing equipment and is subsequently transferred to the label?s surface. These undesirable effects prevent "clean" dispensing processes and may even severely impair subsequent TTR printing of the label.

To solve the problems of adhesive bleeding, Schreiner ProTech has developed its new line of BleedStop labels. These labels feature an area coated with adhesive which is slightly smaller than the label itself: large enough to ensure reliable adhesion and small enough to prevent bleeding from the edges, and thus blocking of the rollers. BleedStop labels are particularly beneficial for TTR label printing as they prevent the ribbon from sticking to the cut contours of the label.

Schreiner ProTech BleedStop labels support smooth processing of labels and nameplates with thick adhesive coatings. In addition, the design of BleedStop labels eliminates the need for other, conventionally used methods to prevent adhesive bleeding such as refrigerated storage.

For further information, please contact:
Todd Franke - Media Relations
Bob Gold & Associates
Ph: 310-784-1040
Email: todd@bobgoldpr.com

SCHREINER LABEL TECH, INC
21477 Bridge Street-Suite I
Southfield, MI 48034-4000
phone: 248-355-3006
fax: 248-355-3046
Toll free: 888-888-8564
schreiner-usa.com

More from Safety & Security Equipment