Adhesive is heat, thermal cycling, and chemicals resistant.
Press Release Summary: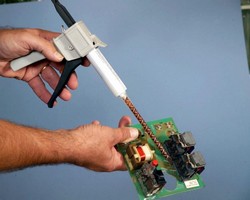 Formulated to cure quickly at ambient temperatures, Supreme65HT-6 produces bonds with tensile lap shear strengths in excess of 3,000 psi for service in temperature range of below -80°F to +400°F. It is resistant to vibration, stress fatigue cracking, moisture, creep, and corrosion. Available in pre-measured bubble packs, cartridges, ½ pint, pint, quart, gallon, and 5 gal containers, unit offers adhesion to metal, glass, ceramics, wood, vulcanized rubbers, and plastics.
---
Original Press Release:

Snap Cure Breakthrough Epoxy



Hackensack, NJ. October 29, 2007 -Master Bond has introduced Supreme65HT-6, a breakthrough in epoxy adhesive technology featuring a hitherto unattainable balance of processing strengths. Supreme65HT-6 T is a two component, adhesive formulated to cure quickly at ambient temperatures e.g. 3-5 minutes. It produces exceptionally good performance bonds with tensile lap shear strengths in excess of 3000 psi (210 kg/cm²) for service in the remarkably wide temperature range of below -62°C (-80°F) to over 204°C (400°F). It offers superior resistance to thermal shock, vibration and stress fatigue cracking while maintaining the moisture, creep, corrosion and thermal resistance typical of epoxy resin adhesives.

Master Bond Supreme65HT-6 is highly resistant to heat, thermal cycling and many chemicals including water, oil, fuels and most organic solvents even upon prolonged exposures. Adhesion to metal, glass, ceramics, wood, vulcanized rubbers and many plastics is excellent.

Master Bond Supreme65HT-6 offers the convenience of a fast room temperature cure and a very favorable bonding performance for even the most difficult applications. It is available in pre-measured bubble packs, cartridges, ½ pint, pint, quart, gallon and 5 gallon containers. Dispensing of Supreme65HT-6 has been tremendously facilitated by the development of a dispensing gun capable of mixing fast setting materials.

About Master Bond:

Master Bond is a manufacturer of high performance adhesives, sealants, coatings, potting and encapsulation compounds and impregnation resins. The product line offers over 3,000 grades of specially designed formulations of acrylics, anaerobics, cyanoacrylates, epoxies, latex, polyamides, polyurethanes and silicone systems to provide an optimal solution for even the most extreme applications.

For further information please visit our website at www.masterbond.com or contact:

James Brenner
Phone: 201-343-8983
Fax: 201-343-2132
E-mail: technical@masterbond.com

More from Adhesives & Sealants