Adhesive gels within 45 sec and is cured within 5 minutes.
Press Release Summary: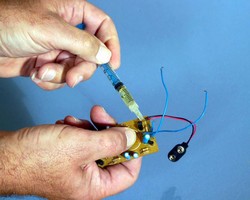 Formulated for general purpose bonding, Type EP50-1 produces high strength bonds with more than 2,000 psi at room temperature that are resistant to thermal cycling and chemicals including water, oil, and organic solvents. Suited for metals, glass, ceramics, wood, and vulcanized rubbers, product is approved for service over temperature range of -60 to more than 250°F. It comes in premeasured, flexible divider pouches, disposable cartridges, and in pint, quart, gallon, and 5 gal containers.
---
Original Press Release:

Adhesive Has Super Fast Cure at Room Temperature



6/17/2008

Master Bond Inc., Hackensack, N.J. has introduced an exceptionally fast curing two component epoxy adhesive for general purpose bonding called EP50-1. It readily develops high bond strength of more than 2000 psi (140 kg/cm²) at room temperature. The bonding strength is relatively insensitive to cleaning procedures. Master Bond EP50-1 gels within 45 seconds and is fully cured within 5 minutes at ambient temperatures. It produces durable high strength and tough bonds which are remarkably resistant to thermal cycling and chemicals including water, oil and most organic solvents. It is approved for service over the temperature range of -60°F to more than +250°F.

EP50-1's adhesion to metals, glass, ceramics, wood, vulcanized rubbers and also many plastics is excellent. EP50-1 is now available in premeasured, flexible divider pouches (bubble packs), disposable cartridges (inserted in a simple to use gun applicator for easy and accurate dispensing) and in pint, quart, gallon and 5 gallon containers.

For further information please visit our website at www.masterbond.com or contact: James Brenner Title: VP of Marketing Phone: 201-343-8983 Fax: 201-343-2132 E-mail: technical@masterbond.com


More from Adhesives & Sealants