Adhesive Film for Quick Curing of Mosaics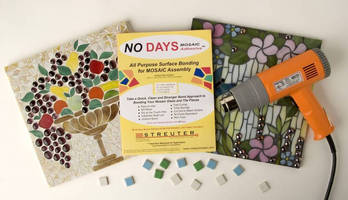 All purpose surface bonding heat activated adhesive (NO Days Mosaic Adhesive Film(TM)) designed for quick curing of glass and ceramic tiles for indoor/outdoor commercial, studio or hobby use. NO Days Mosaic Adhesive Film is a dry-to-the-touch adhesive film which provides the capability to set and cure glass or ceramic tiles over small or large surface areas quickly and all at once.

The unique formulation of NO Days Mosaic Adhesive Film provides superior strength and sealing capabilities of your glass or ceramic tiles to your substrate. The uniform thickness of film provides increased strength and creates a superior moisture barrier as well as minimizes trapped air between your glass or ceramic tiles and substrate. This characteristic makes NO Days Mosaic Adhesive Film ideal for use in flooring mosaics or wall mosaics as well as areas of high moisture such bathroom, shower, kitchen, sink or backsplash application. Air and uneven glue thickness leads to poor adhesion over time when using traditional liquid adhesives for mosaics. NO Days Mosaic Adhesive Film does not outgass over time.

Ideal substrates include glass, wood, mdf, particle board, drywall, aluminum, copper, stainless steel and more. When heated to approximately 220oF/104oC, heat transfers through your glass or ceramic tile pieces causing the adhesive to liquefy and flow. This will allow the adhesive to fill in any surface imperfections that may exist in your glass tiles, ceramic tiles or substrate surface. Curing is relatively instant as the NO Days Mosaic Adhesive is allowed to cool to 160oF/71oC and below. When adhesive is cured, you can grout immediately with no concerns of glass or tile movement.

Re-Workable - A key advantage to NO Days Mosaic Adhesive Film is in it's ability to re-work your glass or tile pieces with ease. Simply reheat your glass or ceramic tiles pieces and re-position or remove while heated. The NO Days Mosaic Adhesive can be heat cycled multiple times in order to reestablish your bond.

Heating Methods - NO Days Mosaic Adhesive Film can be heated using a standard heat gun, embossing heat tool, NO Days Curing Station or many types of ovens or heat tunnels. Traditional heat guns generate 400oF/204oC and up in which activation of the adhesive film is quick. With ovens or other thermal induction methods, typical heating cycle times are approximately 5 to 10 minutes at 220oF (104oC). Heating time will vary dependent on mosaic setup, tile materials and thickness, substrate type as well as heating tool used. Creating a small 1 to 2 tile test setup is recommended to pick up on technique and heating time. If clarity is desired for glass to glass or un-grouted designs, clarity is a function of even temperature heating.

Grouting - There is no special grouting required when using NO Days Mosaic Adhesive Film. Grout as normal.

NO Days Mosaic Adhesive is a solvent free non-toxic (no fume byproduct) adhesive available in 8.50" x 11.00" (21.6cm x 27.9cm) sheets or 100ft x 12.00" (30.5m x 30.5cm) rolls for higher volume production. Film thickness is 0.005" (0.13mm) thick. NO Days Mosaic Adhesive Film can be easily cut to shape to match a specific mounting outline with a razor blade, scissors, paper cutter, punches or steel rule die and press.

Custom NO Days Mosaic Adhesive Film sheet sizes, roll sizes, thicknesses available along with custom melt point formulations upon request.

Streuter Technologies, Inc. has been manufacturing proprietary temperature engineered adhesive films and glazing compounds since 2005 aimed towards mosaic application and mosaic assembly methods.

More from Printing & Duplicating Equipment