Adhesive Delivery System features automatic operation.
Press Release Summary: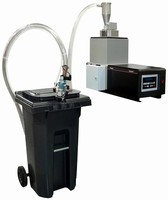 Compatible with other adhesive application equipment, ADS1 DynaFill(TM) eliminates need to manually fill adhesive tank hoppers. Automatic delivery system minimizes adhesive contamination by reducing adhesive exposure to environment. By gradually adding adhesive to tank hopper, it also stabilizes heat in system and promotes cleaner operation. Elements of construction include capacitive sensor immersed in adhesive tank hopper and suction wand, with vibrator, immersed in adhesive bin.
---
Original Press Release:

ITW Dynatec Offers New Automatic Adhesive Delivery System



Hendersonville, Tennessee, February 18, 2008. ITW Dynatec announces the new ADS1 DynaFill(TM) Adhesive Delivery System. The DynaFill(TM) system eliminates the need to manually fill adhesive tank hoppers, freeing operators for other productive tasks. The new automatic delivery system minimizes adhesive contamination by vastly reducing adhesive exposure to the environment. In addition, by gradually adding adhesive to the tank hopper, it stabilizes the heat in the system providing cleaner operation.

The DynaFill(TM) system is easily integrated into-and compatible with-ITW Dynatec and most competitive adhesive application equipment. The inlet cover fits directly on the hot melt unit's adhesive tank hopper.

Operating on 20cfm at 50psi air pressure when feeding, the ADS1 is a self-contained adhesive delivery system that automatically draws and transfers adhesive to the tank hopper when the level falls to a pre-set minimum. Adhesive is drawn through a suction wand immersed in the adhesive bin and delivered under positive-pressure to the tank hopper. A vibrator installed on the wand keeps the adhesive flowing freely. A capacitive sensor immersed in the adhesive tank hopper senses a low level pre-set and responds by transmitting a signal to the DynaFill(TM) system to draw adhesive through the wand and transfer it to the hopper. When the hopper reaches the pre-set maximum adhesive level, the sensor discontinues the signal to the system to stop the transfer of adhesive.

The DynaFill(TM) system conveniently feeds a hot melt unit up to 22 feet vertically and 100 feet horizontally. Due to its positive-pressure self-contained design, the system minimizes contamination for improved performance and reduced equipment downtime.

For more information about the ADS1 DynaFill(TM), contact ITW Dynatec at 800.966.6358 or visit www.itwdynatec.com.

ITW Dynatec designs and manufactures a full range of industrial adhesive applicators, hot melt and cold glue equipment for the Nonwovens, Converting, Product Assembly, and Packaging industries worldwide. Dynatec's fluid dispensing systems are used in the manufacturing process of diapers, envelopes, automotive trim, filtration, structural doors and panels, paper and plastic bags, and various other consumer and industrial products.