Adhesive Debonding Unit uses IR heat to separate panels.
Press Release Summary: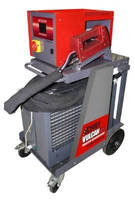 Designed to break bond of structural adhesives in automotive applications, Chief Vulcan ADU uses infrared radiation technology to quickly heat surface to temperature where first layer of glue underneath releases cleanly — in as little as 20 seconds. With adhesive bonds broken, technician can separate materials with minimal risk of damage. Epoxy remains smooth and hard, leaving behind clean work surface. Vulcan ADU can be used on any vehicle surface, including aluminum, carbon fiber, and steel.
---
Original Press Release:

Put Down the Chisel: New Chief® Vulcan Adhesive Debonding Unit Uses Infrared Heat to Separate Aluminum Panels



First product designed to break the bonds of automotive structural adhesives



MADISON, Ind.,  -- As automotive OEMs incorporate more aluminum, high-strength steel, carbon fiber and other "exotic materials" into their vehicle designs, they are also using new methods to join these materials together. Structural adhesives are used extensively in vehicles designed with aluminum, but are also becoming increasingly popular with OEMs in the manufacture of traditional steel-based vehicles.



Repairing collision damage to areas built with structural adhesives can be challenging. The most effective method technicians currently have to separate bonded pieces of aluminum is to manually chisel them apart. This approach is not only physically tiring, but involves considerable risk of damage to the panel being removed, as well as the surface behind it. For panels made of carbon fiber, the only option is to grind through layers, releasing harmful carbon fibers if the dust is not properly captured. That's where the new Chief Vulcan Adhesive Debonding Unit (ADU) comes in.



The patent-pending Chief Vulcan ADU is the first product specifically designed to break the bond of structural adhesives in automotive applications. The Vulcan ADU uses infrared radiation technology to quickly heat the surface to a temperature where the first layer of glue underneath releases cleanly -- in as little as 20 seconds. With the adhesive bonds broken, the technician can then easily separate the materials with less risk of damage to either piece. The epoxy remains smooth and hard, not sticky, leaving behind a clean work surface. The Vulcan ADU can be used on any vehicle surface, including aluminum, carbon fiber and steel.



"The need to meet 2025 CAFE standards is driving automotive manufacturers to explore an incredibly wide range of materials, joining methods and other light-weighting technologies in a relatively short period of time," says Mickey Swartz, director of global product management for Chief parent company Vehicle Service Group (VSG). "As a result, the collision repair industry is innovating like never before to develop new tools, equipment and repair techniques. The Chief Vulcan Adhesive Debonding Unit is a solution to an issue that wasn't important just a few years ago. But as OEMs incorporate glue and epoxies into their manufacturing processes for more and more vehicles, collision repair shops need to be equipped to efficiently separate those bonded components to properly repair the vehicles."



Applying heat is a proven method for releasing adhesives, but although there are several options available for traditional steel panels, tight temperature control is needed to not overheat high-strength steels. Aluminum is more challenging because it dissipates heat very quickly and requires a lot of input energy: more than is found in traditional induction heaters or heat guns.



The Vulcan ADU uses very short waves of infrared radiation to quickly produce up to 600 degrees of heat concentrated at the surface of the material being treated. Even though the unit produces very high output temperature, the lamp's handles and sides remain cool to the touch for safe operation and prolonged lamp life.



The Vulcan ADU has three modes of operation.



1. Manual: Pulling the trigger will produce whatever level of power the technician set until the trigger is released.

2. Automatic: The technician sets both a set point temperature and the power level, and the unit will control to that level while the trigger is pressed.

3. Programmable: The technician can set up to five steps including a specific temperature and how long the Vulcan should stay at that temperature.



To learn more about the Chief Vulcan Adhesive Debonding Unit, visit chiefautomotive.com/Shop-Tools/Vulcan-ADU/, contact your local Chief distributor or call (800) 445-9262. Chief is also active on Twitter, twitter.com/ChiefAutomotive and Facebook, www.facebook.com/ChiefAutomotive. For video, visit chiefautomotive.com/video-library.



About Chief

Chief, a Vehicle Service Group (VSG) brand, is one of the world's largest manufacturers of high-quality collision repair products and services. The Chief product line includes frame-pulling equipment, vehicle-anchoring systems, measuring systems, vehicle frame specifications and fusion equipment including welders, rivet guns and fume extractors. Chief is also a leading provider of comprehensive training on structural analysis, measuring, collision dynamics, aluminum repair, and design based repair.



VSG comprises nine global collision repair and vehicle lifting brands: Chief, Elektron, Rotary Lift®, Forward® Lift, Direct-Lift®, Hanmecson®, Revolution® Lift, Blitz® and nogra®. VSG also has exclusive North American marketing rights to the Chassis Liner and Globaljig® brands. With its North and South American headquarters in Madison, Indiana, VSG has operations worldwide, including ISO 9001-certified manufacturing facilities on three continents. VSG is part of the Engineered Systems segment of Dover Corporation, a multi-billion dollar, global producer of innovative equipment, specialty systems and value-added services.



Web Site: http://www.chiefautomotive.com

More from Architectural & Civil Engineering Products