Adhesive bonds optical components.
Press Release Summary: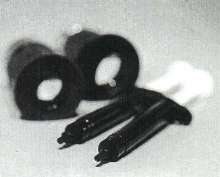 Optically-clear, ANGSTROMBOND® AB9053 is suited for bonding lenses, prisms, and quartz windows. Acrylic polymer has low refractive index of 1.41, offers UV cure in as little as 1 sec, and withstands temperatures up to 200°C. Supplied in 3 cc syringes, adhesive will bond to glass, ceramic, plastics, and most metals.
---
Original Press Release:
AB9053 Low Refractive Index Adhesive

Fiber Optic Center introduces ANGSTROMBOND® AB9053 low refractive index adhesive. It is an optically clear adhesive that was designed for bonding a variety of optical components including lenses, prisms and quartz windows. This premium acrylic polymer has a very low refractive index of 1.41. This flexible, UV cure adhesive provides an extremely rapid cure time of as little as one second. This resilient adhesive will bond to glass, ceramic, plastics and most metals, and can withstand temperatures of up to 200°c. It is supplied in 3 - cc syringes, but can also be supplied in other sizes, as per your requirements.

Fiber Optic Center, Inc. of New Bedford, MA, USA is the worldwide supplier of ANGSTROMBOND fiber optic epoxy, and ANGSTROMLAP® high performance lapping film, and is also a stocking distributor of tools, connectors, splices, enclosures and panels, test sets and microscopes, termination kits, and other supplies used by the fiber professional. You can contact Fiber Optic Center Inc. at 1-800-473-4237 for additional information or visit our website at www.focenter.com.