Adhesive Applicator provides hot-melt bonding.
Press Release Summary: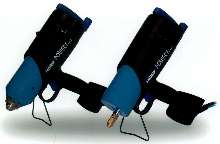 PowerLine® applicator, with 6.8 oz melting tank and quick-heating chamber, melts various adhesive types in less than 6 min. Compressed air from 21.8 to 87.0 psi delivers adhesive at controlled, sustainable rate. LED digital control panel, located at base of handle, controls adhesive temperature and power functions. Integrated temperature adjustment function automatically reduces adhesive temperature by 104°F if unit is not used within 30 minutes.
---
Original Press Release:
PowerLine® Hot Melt Adhesive Applicators Introduced for Industrial Bonding Applications

CHARLOTTE, North Carolina---PAM Fastening Technology introduces a new line of ergonomic handheld adhesive applicators for hot melt bonding.

The PAM PowerLine® is designed for medium volume applications where a stick glue gun is too small, while a larger bulk tank unit is not suitable. A large 6.8 oz. (200 ml) melting tank with a quick-heating chamber melts various adhesive types such as plugs and chips in less than 6 minutes. Compressed air safely delivers adhesive at a controlled and sustainable rate. The PowerLine® extrusion model is available with quick-changing specialty nozzles, while custom tips can also be designed to suit a particular application.

The unit is ergonomically designed to balance the bodyweight and reduce worker fatigue. A full function LED digital control panel is located at the base of the handle that controls adhesive temperature and power functions on the fly.

Safety is also a key factor in the new PowerLine® design. An integrated temperature adjustment function automatically reduces the adhesive temperature by 104° F if the unit is not used within 30 minutes. Also, an internal safety device regulates the melt chamber air pressure and ensures proper continuous adhesive output.

Common Applications

Normal applications for the PowerLine® can be found in the packaging, automotive, electrical products, furniture and textile industries.

Technical Specifications

The lightweight PowerLine® weighs 3.0 lbs. (1.4 kg) and uses 600 watts of power. The applicator utilizes electronic temperature controls with a safety mechanism to help prevent injury. The unit capacity is 6.8 oz. (200 ml) of adhesive that is placed in an integrated melting tank. Normal operating pressure is 21.8 psi (1.5 bar) to 87.0 psi (6 bar).

The unit uses adhesive plugs, pillows or chips and can be ready for use after 6 minutes of heating time. An optional working console for the applicator is available.

About PAM Fastening

PAM Fastening is a leader in hot melt technologies with corporate and research offices located in Charlotte, NC and Bremen, Germany. PAM also manufactures Autofeed Screw Guns for the building industry. The company has a broad line of frame assembly equipment and accessories for the framing and hobby industries. For more information, contact PAM Fastening at 2120 Gateway Blvd., Charlotte, NC 28208, Telephone: 704-394-3141, Fax: 704-394-9339, E-mail: sales@pamfast.com. The company's corporate website address is www.pamfast.com.