Addex to Announce Phase 2 of Intensive Cooling Technology at K 2019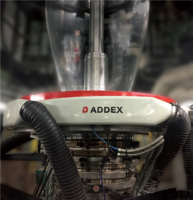 Newark, N.Y., August 7, 2019 – Addex Inc., a leading supplier of high-performance blown film cooling equipment, will launch Phase 2 of its Intensive Cooling technology at the upcoming K 2019 exhibition (Hall 17/C41), which runs Oct. 16-23, in Düsseldorf, Germany.
"Intensive Cooling" is Addex's revolutionary approach to cooling the bubble. Addex's patented design change from the common aerodynamics of present-day blown film air rings is responsible for dramatic increases in stability and output. Addex continues to refine the system for even greater gains when combined with the company's proprietary auto-profile and IBC systems.
Addex, which is celebrating its 30th anniversary this year, enjoys strong commercial success with Intensive Cooling, due largely to repeat orders. The system optimizes performance for both high- and low-melt strength processes, according to Bob Cree, Addex President. "Our customers are buying the first unit and they are not stopping there," said Cree. "They see what it can do and they continue purchasing." The most popular configuration replaces the conventional dual flow's low-velocity, diffused-flow lower lip with a very high-velocity, upwardly-directed, and focused air stream, which is mounted flat to the die to create an entirely new lock point, about 25mm above the die lip. The technology is sold as part of Addex's industry standard Laminar Flow air ring, and also in concert with Addex's auto-profile and IBC systems.
Addex has undertaken broad research and development work which has resulted in the filing of several key patents that together shift the aerodynamic paradigm of blown film cooling technology to "get the most out of the process," according to Cree. "Intensive Cooling products will continue to evolve, fueled by customer feedback and the learning curve, as more systems are put into operation on a variety of processes and materials in production," said Cree.
Phase 1 Intensive Cooling R&D focused on adapting the technology to run a range of materials—both high- and low-melt materials. Step by step, Addex has garnered success with what the industry considers "hard to run" materials. Now in Phase 2, Addex is taking a fresh look at the design of other components within the blown film cooling process, with an eye toward optimizing total system performance in combination with Intensive Cooling. "Intensive Cooling allows us to push output so far that we start to see where other parts of the cooling system begin to break down, such as the main air ring lip designs, air collars, and IBC—so that's where our R&D is focused now," says Cree.
Addex purchased a new extruder after quickly maxing out its pilot line capability with Intensive Cooling. The company also increased die size from 6 to 8-in, raising output from 500 lb/hr to 1200 lb/hr. "The only drawback to retrofitting a line with Intensive Cooling is that the customer may need to make further investments in blowers and extruders to handle the increases in output rate," said Cree. Addex guarantees a minimum of 10%-15% average increase in output rate, depending on materials being run. Customers have reported actual outputs considerably higher. It is not uncommon to see a 30% increase in output, especially for stiffer materials. In one case, a customer reported an output increase of 80%.
Intensive Cooling operates over a wide range of configurations and materials, supporting fast changeovers and enhanced bubble stability, even at higher output rates, yielding an even broader range of processing parameters such as BUR (blow up ratio), thickness, and melt strength. When combined with Addex's patented auto-profile External Gauge Control (EGC), processors also experience significant improvements in thickness variation. Many customers are using the combination of higher output and quality associated with Intensive Cooling Auto-Profile to easily justify retrofitting both, according to Cree. The system is also fully compatible with Addex's Digital Internal Bubble Cooling Control when installed with special IBC hardware.
Today, Addex supplies the most sophisticated blown film cooling technologies capable of producing films at the highest possible output and stability, with the lowest possible gauge variation. Addex's dedicated focus on blown film R&D has resulted in over 30 U.S. patents (or patents pending), including Intensive Cooling air rings, Automatic and Manual Profile Controls that yield high-quality films, and an All-Digital IBC Control with Quick Change feature that significantly reduces scrap.
About Addex Inc.
Addex Inc., based in Newark, N.Y., USA, was founded in July 1989 as a supplier of high-performance components for blown film production. Today, Addex focuses on leading-edge cooling technologies with its patented very high-output cooling, automatic and manual gauge controls, and IBC control systems. For more information, visit www.addexinc.com.
Press Contact:
Joseph Grande
J. Grande communications Inc.
413.684.2463