Adchem Announces Bonding Solutions with SABIC Innovative Plastics Noryl Resin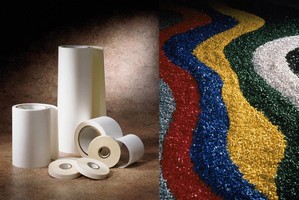 Adchem Corporation, leaders in high performance film and foam bonding pressure-sensitive adhesive tape systems, offers a wide range of bonding solutions that, when coupled with SABIC Innovative Plastics Noryl Resin, serves a wide variety of applications for virtually every industry, including, automotive, electronics, fenestration, medical and transportation. Many of these tapes systems also meet automotive specifications for interior and under hood applications.

A broad range of Adchem tape products have been tested with the Noryl resin family, including both rubber and acrylic adhesive chemistries, and have demonstrated numerous options for mounting and foam bonding solutions depending on the performance requirements and the other bonded substrate. Adhesive technologies from removable to permanent bonding are represented, as well as tape constructions including double-coated, unsupported and foam tapes. Noryl Classico modified PPE resin based products now have a wide range of options with Adchem's tapes for applications requiring transfer tapes, double coated tapes or foam tapes.

In addition to the ability to bond with the Noryl resin, many of Adchem's tapes tested are capable of bonding a broad range of foams manufactured by Foamex, Rogers, Griswold, Armacell, Carpenter, Voltek and other foam manufacturers opening new options for application of the Noryl resin products.

Adchem's innovative double-coated, foam tape, and transfer tape systems, coupled with its advanced engineering and test capabilities, enables Adchem to develop adhesive tapes for the most demanding industrial applications. Adchem works closely with customers to help select and design adhesive tape systems to meet their unique material and performance requirements.

About Adchem Corporation
Adchem, an ISO 9001 certified and A2LA accredited company, manufactures an innovative line of pressure-sensitive adhesive tape systems, including double-coated papers, films, tissues, foams and fabrics; transfer tapes; one-side coated products and other custom-coated specialty products. Our 100% solids adhesives, solvent and water based acrylics and rubber adhesives are used in a variety of industries, including automotive, construction, electronics, graphic arts, medical and general industrial tape applications. Through their in-house laboratories located in a 200,000 square foot facility in Riverhead, NY, Adchem is able to design and test bonding solutions for virtually every application.

For additional information and a copy of the bonding study, please contact Adchem Corporation, 1852 Old Country Road, Riverhead, NY 11901 Phone: (631) 727-6000 Fax: (631) 727-6010 or our website at www.adchem.com.

About SABIC Innovative Plastics
SABIC Innovative Plastics is a global supplier of plastic resins widely used in automotive, healthcare, consumer electronics, transportation, performance packaging, building and construction, telecommunications and optical media applications. The company manufactures and compounds polycarbonate, ABS, ASA, PPE, PC/ABS, PBT and PEI resins, as well as the LNP* line of high-performance specialty compounds, under such well known brand names as Lexan*, Cycolac*, Geloy*, Noryl, Cycoloy*, Valox* and Ultem*.

The Specialty Film and Sheet division of SABIC Innovative Plastics manufactures high-performance Lexan sheet and film products used in thousands of demanding applications worldwide. The dedicated automotive organization is an experienced, worldwide supplier, offering leading plastics solutions for five key automotive segments: body panels and glazing; under the hood applications; component; structures and interiors; and lighting. SABIC Innovative Plastics is part of Saudi Basic Industries Corporation (SABIC), one of the 10 largest petrochemicals manufacturers in the world.

* Trademark of SABIC Innovative Plastics IP BV.


More from Software