ADC targets dual-channel applications.
Press Release Summary: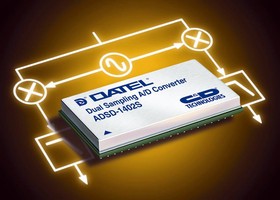 Available with commercial and military temperature range options, dual-channel 14-bit DATEL ADSD-1402S delivers 2 MS/sec sampling rate. SMT 40-pin TDIP package incorporates out-of-range indicator and all timing and control logic necessary to operate from single edge-triggered start convert pulse. Characteristics include low noise of 250 µV rms, 79 dB SNR, -80 dB THD, and 12 MHz input bandwidth. Device operates from ±5 V supply with power consumption of 600 mW.
---
Original Press Release:

Low-Cost, Dual Sampling ADC Delivers Low Noise, High-Performance Operation to High End Applications



Compact, Dual 14-Bit, 2MSPS ADC Available in Commercial and Military Temperature Range Options

o Dual-channel, 14-bit resolution, 2MSPS sample rate
o Low cost, functionally complete compact 40-pin SMT TDIP package
o Edge-triggered operation with no pipeline delays
o Low noise: 250µV rms, 79dB SNR, -80dB THD
o No missing codes over full operating temperature range

March 10th, 2006, Mansfield, MA - C&D Technologies (NYSE: CHP) has launched a fully integrated, dual sampling, 2MSPS (mega-sample per second) 14-bit ADC (analog-to-digital converter) for high-end, dual-channel applications that demand low-noise, high-performance operation. Available in commercial and military temperature range options, the new DATEL ADSD-1402S ADC is a compact, low-power device that delivers 'no-missing-code' performance over the full operating temperature range.

The ADSD-1402S is supplied in a low-cost, functionally complete 40-pin SMT TDIP package incorporating an 'out-of-range' indicator and all of the timing and control logic necessary to operate from a single, edge-triggered 'start convert' pulse. Output data is provided with none of the pipeline delays typically associated with high-resolution monolithic multi-pass converters. Such delays cannot be tolerated in many time-critical, high-end applications.

C&D's new ADC is suitable for a wide variety of high-end medical, industrial, scientific and military imaging applications, as well as dual-channel I/Q (In-phase and Quadrature) applications used in communications, radar and sonar systems. In addition, a large-signal input bandwidth of 12MHz makes the ADSD-1402S ideal for wideband, multi-channel spectrum and FFT-based applications.

The ADSD-1402S is based on a proprietary gate array and a design that ensures excellent dynamic performance by optimizing signal return paths and providing internal, local decoupling. As a result, typical RMS noise level is rated at just 250μV, while the signal-to-noise ratio (SNR) - one of the most important specifications for imaging applications - is 80dB.

Along with all the necessary timing and control logic to operate from either single or double start convert pulses, the new ADC contains two fast-settling sample/hold amplifiers, two 14-bit ADCs, multiplexed output buffers, and a precision reference. The device operates from ±5V supplies with a power consumption of just 600mW, and is available in options for use over both the commercial (0º to 70ºC) and military (-55ºC to 125ºC) temperature ranges.

Price and Delivery
Delivery for the ADSD-1402S converters is stock to two weeks for small quantity sample orders, with production quantities from four to six weeks. Pricing for 100+ units is $195 per unit for the ADSD-1402S commercial operating temperature range ADC, and $254 per unit for the ADSD-1402S-EX military temperature range option.

Note: The datasheet for this product can be found by visiting www.cd4power.com.

C&D Technologies, Inc. is a technology company that produces and markets systems for the conversion and storage of electrical power, including telecom/industrial batteries, rectifiers and electronics. This specialized focus has established the company as a leading and valued supplier of products in two major categories - reserve power systems and electronic power supplies. Corporate headquarters are in Blue Bell, Pennsylvania, USA and the company is traded on the NYSE under the symbol 'CHP'.

The Power Electronics Division of C&D Technologies, Inc. has its headquarters in Mansfield, Massachusetts, USA, with manufacturing in USA, Mexico, UK and China plus sales locations in the USA, UK, France, Germany, China and Japan. The division designs, manufactures and distributes DC/DC converters, AC/DC power supplies, magnetics, Data Acquisition devices and panel meters, and offers these products in custom, standard and modified-standard variations. These products, which are built to exacting requirements in ISO9000:2000-approved facilities, are typically used worldwide by Original Equipment Manufacturers (OEMs) within telecommunications, computing, industrial and other high-tech applications.

In 2004 the product portfolio as well as the global design and manufacturing capabilities of the Power Electronics Division were significantly enhanced as a result of three key acquisitions. In May 2004, C&D acquired UK-based Celab Limited, a designer and manufacturer of power conversion products for military, cable television and high-end telecommunications applications. In June 2004, the company acquired Datel, Inc., a US-based producer of medium-power DC/DC converters, data acquisition products and digital panel meters. In September 2004, C&D completed the acquisition of CPS, the former Power Systems Division of Celestica, Inc., a Canadian manufacturer of DC/DC and AC/DC power supplies.

Further editorial information from:
Pippa Hall,
Global Media Relations Manager,
C&D Technologies (NCL) Ltd - Power Electronics Division
Tel: +44 (0) 1908 619886 Fax: +44 (0) 1908 617545
E-mail: phall@cdtechno.com

Contact details for publication:
C&D Technologies, Inc.,
Tel: (800) 547-2537 Fax: (520) 295-4197
Product URL: www.cd4power.com
E-mail: media@cdtechno.com