Adapters convert ratcheting wrench into thin ratchet.
Press Release Summary: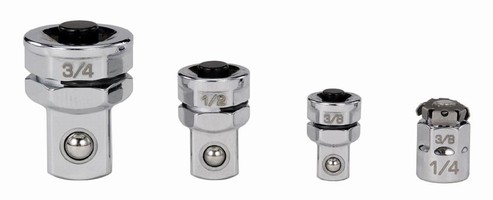 Designed to fit 3/8, ½, and ¾ in., and 10, 13, and 19 mm ratcheting wrenches, ratchet adapters create low profile ratchets for space-constrained areas found in aircraft and automotive engines. Adapters can be used with ¼, 3/8, and ½ in. drive sockets, either English or Metric, as well as with spline sockets. Products use locking and release system and are available individually or in sets of 4 fractional or 4 metric adapters.
---
Original Press Release:
Stanley Proto Introduces Box Wrench Ratchet Adapters
New accessories convert a ratcheting box head wrench into an ultra thin ratchet. Conyers, GA, October 10, 2006 - Ratchet Adapters are the latest Stanley® Proto® tools designed to add more versatility to the technician's toolbox. When plugged into the head of a ratcheting box wrench, these accessories convert the wrench into an ultra-thin ratchet head that will accept the same sockets and attachments as a standard ratchet. The new line includes adapters that are made to fit into 3/8 in, ½ in, and ¾ in., 10mm, 13mm, and 19mm ratcheting wrenches. It also includes ¼ in., 3/8 in. and ½ in. drive versions. The main benefit of an adapter is that it creates a very low profile ratchet - for instance, the profile of a ½ in. adapter in a ratcheting wrench is smaller than the profile of a ½ in ratchet. That means it can more easily squeeze into very tight spaces, such as those found on today's aircraft and automotive engines. Ratchet adapters can also reduce the number of tools a mobile maintenance technician has to lug from place to place. That's because the technician can now carry three small adaptors, rather than three full-size ratchets. Stanley® Proto® ratchet adapters can be used with ¼", 3/8" and ½" drive sockets, either English or Metric, as well as with spline sockets. In addition, Proto is offering bit adapters that will accept ¼ in. screwdriver bits. They're designed to be used with a 3/8 in. or 10mm ratcheting wrenches. All adapters use a convenient and stable locking and release system. They can be purchased individually or in sets of four fractional, or four metric adapters. About Stanley-Proto Professionals worldwide prefer Stanley® Proto® Industrial Tools for their outstanding quality, durability, and dependability. Developed according to strict ergonomic standards, they offer enhanced shock absorption and reduced slip, as well as designs that let professional users work faster and easier. Markets including auto-manufacturing plants, steel and airplane manufacturing, chemical plants, refineries, general manufacturing, transportation, and fleet maintenance for trucking, transit, and aircraft. For more information call 800-800-TOOL, or go to www.stanleyproto.com. Company Contact Information Stanley-Proto 2195 East View Parkway, Suite 103 Conyers, Georgia 30014 800-800-TOOL 770-787-3800 www.stanleyproto.com stanleyproto@stanleycustomersupport.com
More from Electrical Equipment & Systems