Circuit Board Assembly Services
Adapter/PCI Board extend plant-wide control applications.
Press Release Summary: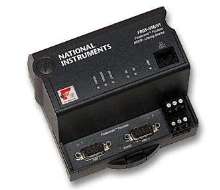 FBUS-HSE/H1 Fieldbus high-speed Ethernet linking device connects 31.25 kbps H1 segments to HSE network running at 10 Mbps or higher. PCI-FBUS/2 plug and play PCI board allows user to connect FOUNDATION Fieldbus devices to desktop PCs that no longer offer ISA slot as standard feature. NI-FBUS v3.0 software integrates with LabVIEW 7 Express, supports FBUS-HSE/H1 and PCI-FBUS/2 Fieldbus interfaces, and includes communications manager and Fieldbus configurator.
---
Original Press Release:

NI Introduces FieldBus High-Speed Ethernet Linking Devices and Plug and Play PCI Board


FieldBus 3.0 Software Integrates with LabVIEW 7 Express for Faster, More Efficient I/O Operations

NEWS RELEASE -- Oct. 21, 2003 -- Process industrial engineers now can extend plant-wide control applications to include Ethernet capabilities with the new National Instruments FBUS-HSE/H1 Fieldbus high-speed Ethernet (HSE) linking device. Using the linking device, engineers can fully integrate sensor, process, discrete, hybrid and batch control subsystems with higher level supervisory applications.

The HSE/HI linking device connects 31.25 kbps H1 segments to an HSE network running at 10 Mbps or higher, making it easier for engineers to build high-performance, integrated applications, such as manufacturing, refinery, chemical and pharmaceutical plant installations. With this device, engineers can implement an open architecture for incorporating information into a process automation system. This integrated approach is ideal for large process automation plants because engineers can perform temperature, level and flow control, which requires multiple H1 transitioning devices connected through a commercial off-the-shelf Ethernet network.

National Instruments also announces the new NI PCI-FBUS/2 plug and play PCI board, which engineers can use to more easily connect FOUNDATION Fieldbus devices to new desktop PCs. The PCI-FBUS/2 eliminates challenges of configuring AT-FBUS boards with new computers that no longer offer ISA slots as a standard feature. Now, engineers can easily plug the PCI-FBUS board into any new desktop with a PCI slot and more easily run software without using a complex interface card.

New NI-FBUS 3.0 software easily integrates with LabVIEW 7 Express through the new Fieldbus VI library, which eliminates the inconvenience of low-performance, complex configuration OPC servers used to call FOUNDATION Fieldbus devices. The new NI-FBUS 3.0 software supports the new FBUS-HSE/H1 and PCI-FBUS/2 Fieldbus interfaces and includes a new communications manager and a Fieldbus configurator.

About National Instruments
National Instruments (www.ni.com) is a technology pioneer and leader in virtual instrumentation -- a revolutionary concept that has changed the way engineers and scientists approach measurement and automation. Leveraging the PC and its related technologies, virtual instrumentation increases productivity and lowers costs for customers worldwide through easy-to-integrate software, such as the NI LabVIEW graphical development environment, and modular hardware, such as PXI modules for data acquisition, instrument control and machine vision.

Headquartered in Austin, Texas, NI has more than 3,000 employees and direct operations in 40 countries. In 2002, the company sold products to more than 25,000 different companies in more than 80 countries around the world. For the past four consecutive years, FORTUNE magazine has named NI one of the 100 best companies to work for in America.

Pricing and Contact Information FBUS -- HSE/H1 Priced from $2,195; Euros3,450; ¥317,000 11500 N Mopac Expwy, Austin, Texas 78759-3504

PCI-FBUS/2, NI-FBUS Software for Windows 2000/NT/XP Priced from $1,995; Euros3,245; ¥288,000 Tel: (800) 258-7022, Fax: (512) 683-9300

Web: ni.com/fieldbus
E-mail: info@ni.com

More from Services